Plans for a second year's Council Tax freeze set out
Communities Secretary announces details of financial help to help councils freeze bills in 2012 to 2013.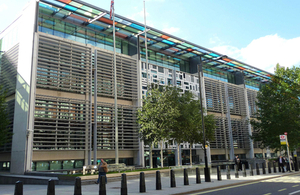 We know households are facing difficult times so we're helping keep living costs down with a second year's Council Tax freeze, Local Government Secretary Eric Pickles said today (14 November 2011), as new scheme details were published.
Estimates of the government grant boost that every council in England would receive if they commit to holding or reducing average band D Council Tax for a second year were published today.
This follows the announcement that government has set aside an extra £805 million, of which up to £675 million will be available to local authorities in England to help keep Council Tax down for a further year.
This new support builds on the 2011 to 2012 freeze offer taken up by all councils, boosting what they could get over 4 years to £3.3 billion if they hold Council Tax for a second year. The new scheme would mean that local taxpayers living in an average band D home in England could once again save up to £72 compared to a 5% rise in Council Tax, on top of this year's Council Tax saving of up to £72.
The new voluntary scheme will be open to the same councils as last year. Councils that freeze or reduce their Council Tax next year will get a one-off grant equivalent to raising their Council Tax by 2.5%. Police and single-purpose fire and rescue authorities will get a 3% equivalent, with the Greater London Authority and the City of London getting intermediate offers.
Eric Pickles said:
"Last year every council signed up to our Council Tax freeze, but with many families still facing difficult times we're rolling over our successful scheme so councils can keep a lid on bills for another year.
"Our 2-year freeze promise, potentially worth up to £72 each year to band D residents, is in stark contrast to the years before when Council Tax was allowed to double.
"Today every local authority can see how we'll back them to hold Council Tax steady for another year and leave millions of taxpayers with more of their hard-earned cash in their pockets."
Further information
Council Tax bills hit £1,439 on band D in England in 2010 to 2011. This year, 2011 to 2012, the average band D bill set by local authorities remained at £1,439. In London it was £1,308; in metropolitan areas it was £1,399; and in shire areas it was £1,484. Council Tax was £688 in 1997 to 1998. This means Council Tax has risen over 100%, or an extra £751 a year on a band D home. Since all other bands are set as a percentage of band D, homes in every band have seen their bills double.
The value of saving for taxpayers by area from 2 years of the Council Tax freeze scheme compared to a 5% rise is listed in this spreadsheet (Excel 63KB).
To help local authorities with their budget planning, we have published an estimate of the grant each participating authority would receive (Excel 88KB). Grants will be finalised in March 2012 once authorities have reported the tax base underpinning their calculation of Council Tax for 2012 to 2013. A further £675 million will go to help local authorities in England freeze their Council Tax next year on top of this year's freeze. Of this, the London offer of around £100 million is based on a 2.5% increase for borough councils, a combined percentage increase of 3% and 2.75% for the Greater London Authority and of 2.75% for the City of London.
The scheme for 2012 to 2013 will comprise a one-off payment of grant, which is payable for one year only. The Localism Bill proposes to give the public the right to veto excessive Council Tax rises. Councils that set Council Tax increase above a ceiling approved by Parliament each year would automatically trigger a referendum of all registered local electors in their area.
The scheme will be voluntary, and will apply separately to each billing and major precepting authority in England (including police and fire and rescue authorities) rather than to each Council Tax bill issued. Local precepting authorities, such as town and parish councils, will not be included in the scheme, but the Government urges them to exercise restraint and help make sure no Council Tax payer faces an increased bill. The Devolved Administrations will receive Barnett consequentials for this additional spending.
Assuming that all authorities take up the offer to freeze or reduce their Council Tax in 2012-13, we estimate Government will provide £3.3 billion of grant over the Spending Review period. You can view a breakdown of the funding for each area (Excel 87KB).
Average band D Council Tax and percentage change between 1993 to 1994 and 2011 to 2012 are shown below:
| Financial year | Average band D Council Tax bill | % increase on previous year |
| --- | --- | --- |
| 1993 to 1994 | £568 |   |
| 1994 to 1995 | £580 | 2.1% |
| 1995 to 1996 | £609 | 5.0% |
| 1996 to 1997 | £646 | 6.1% |
| 1997 to 1998 | £688 | 6.5% |
| 1998 to 1999 | £747 | 8.6% |
| 1999 to 2000 | £798 | 6.8% |
| 2000 to 2001 | £847 | 6.1% |
| 2001 to 2002 | £901 | 6.4% |
| 2002 to 2003 | £976 | 8.2% |
| 2003 to 2004 | £1,102 | 12.9% |
| 2004 to 2005 | £1,167 | 5.9% |
| 2005 to 2006 | £1,214 | 4.1% |
| 2006 to 2007 | £1,268 | 4.5% |
| 2007 to 2008 | £1,321 | 4.2% |
| 2008 to 2009 | £1,373 | 3.9% |
| 2009 to 2010 | £1,414 | 3.0% |
| 2010 to 2011 | £1,439 | 1.8% |
| 2011 to 2012 | £1,439 | 0.0% |
| 2012 to 2013 | £1,444 | 0.3% |
Published 14 November 2011