News story
Plans announced for regional growth and technology centres
The Prime Minister and Lord Heseltine announced plans to boost growth in all regions of the country, and the Government is also announcing further details for its £200 million national network of elite Technology and Innovation Centres.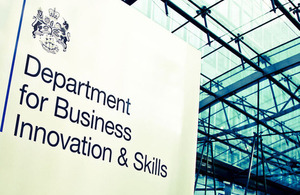 Meeting members of the Liverpool City Region Shadow Local Enterprise Partnership (LEP), the Prime Minister announced he was commissioning Tesco Chief Executive Sir Terry Leahy, a member of the Shadow LEP, Lord Heseltine and other Shadow Board members to produce a regional economic plan that will stimulate growth in Liverpool.
A national LEP summit on growth and competitiveness in the Spring will bring together LEP Chairs from across the country to prioritise action to stimulate growth at a regional level. This will be supported by additional money, to help LEPs understand the real issues facing local businesses, from a LEP Capacity Fund.
Lord Heseltine is undertaking a number of regional roadshows which provide advice on how potential applicants for the Fund can participate in the bidding process and to encourage them to come forward with high-quality proposals that promise to create economic growth and sustainable jobs, and help communities to flourish.
The Regional Growth Fund will operate over three years. The first of at least three bidding rounds is now open and the deadline for proposals is 21 January 2011. Further bidding rounds will be announced in early 2011. More information on criteria for the Fund and the bidding process is available on the Regional Growth Fund page.
Technology and innovation centres
The Technology Strategy Board is today publishing a prospectus that will fast track the creation of a centre focused on High Value Manufacturing.
The centre will be the first of an elite national network of centres, to be established and overseen by the Technology Strategy Board, working in partnership with universities and businesses to help commercialise the results of research in specific technology areas where there are potential multi-billion pound global markets.
The prospectus also outlines plans to establish a further six to eight world-leading centres in the initial candidate areas of:
Energy & Resource Efficiency.
Transport Systems.
Healthcare.
ICT
Electronics, photonics and electrical systems.
It calls for the business, academic and other interest groups to comment on the proposals and help shape how the centres will be developed. The Technology Strategy Board received funding of £200m in the Comprehensive Spending Review for the Centres.
After consultations a decision will be taken on the establishment of the first centre in March 2011. The Technology Strategy Board is also inviting views by the end of January 2011 on the initial list of candidate areas, and other potential areas, for future centres. These will be established in two phases, with the first phase starting in 2011/2012 and the second during 2012/2013.
Links
Published 6 January 2011