Press release
Planned roadworks in the North West: summary for Monday 28 September to Sunday 4 October 2015
Planned new and ongoing road improvements over the coming week.
This news article was withdrawn on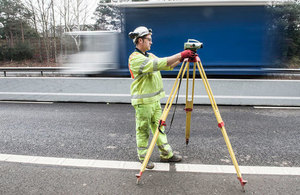 The following summary of planned new and ongoing road improvements over the coming week is correct as of Friday 25 September and could be subject to change due to weather conditions or unforeseen circumstances. All our improvement work is carried out with the aim of causing as little disruption as possible.
M56 junction 11 Daresbury
A major project is taking place to tackle congestion at junction 11 of the M56 near Daresbury. Clearly signed diversions will be in place when roads are closed.
M6 junction 24 and 25 Ashton and Bryn
A £945,000 scheme to resurface sections of the main carriageway and slip roads around these junctions has begun and will be completed by Tuesday 6 October. All the work is overnight – between 9pm and 6am each night – involving single slip road closures (junction 24 slip roads and the junction 25 southbound entry slip road) and lane closures on the main carriageway.
M6 junction 38 Brough to junction 39 Shap
Work to resurface sections of the southbound carriageway near Tebay Services started on Monday (21 September). Contractors will also install new reflective road studs, replace road markings and carry out repairs to 2 bridges. Two lanes will be open to traffic during the day, between 6am and 8pm, and one lane overnight, between 8pm and 6am. The project is due to be completed by the end of October.
M60 junction 8 Sale to M62 junction 20 Rochdale
A major scheme is taking place to cut congestion and improve journey times on parts of the M60 and the M62 in Greater Manchester. The scheme will require some overnight closures affecting the full carriageway and slip roads, with a 50mph limit in place for the safety of workers and drivers. The project is due to be completed in autumn 2017.
M62 junction 10 and M6 junction 21a Croft Interchange
The exit slip roads from the westbound M62 onto the northbound M6, and from the eastbound M62 onto the southbound M6 will be closed overnight, between 8pm and 6am, while repair work takes place on the motorway bridges. Drivers will be able to follow clearly signed diversion routes. Narrow lanes and a temporary 50mph speed limit will also be in place on the slip roads during the day. The scheme is due to be completed in December.
A5036 Litherland
A £1.7 million project to resurface the main road to the Port of Liverpool started on Monday 24 August. A 2 ½ mile stretch of the A5036 is being resurfaced from the junction with the M57 and the M58, known as Switch Island, to the junction with Hawthorne Road. All of the work will be carried out overnight to keep disruption to drivers to a minimum, and clearly signed diversions will be in place when short stretches of the road are closed.
A55/A483 roundabout, Chester
Work has now been largely completed at this scheme with the junction fully open to drivers. Some snagging work and installation of street lights remains, which will be carried out using overnight lane closures only. To find out more visit the project page.
A556 Knutsford to Bowdon
A £192 million project is being carried out to create a new dual carriageway linking the M56 to the M6 in Cheshire. A temporary 40mph speed limit is currently in place between Bucklow Hill and Bowdon, and the new dual carriageway is expected to open in winter 2016/17. The project entered a new phase of work on Monday (21 September) with the following traffic management to note:
closure of Cherry Tree Lane off the A556 for around 6 months
closure of junction 8 (a single slip road from the A556 onto the westbound M56) for around 4 weeks for bridge works
overnight closures of the A556 in both directions (week nights only) between Bucklow Hill and Bowdon View roundabout up to Friday (2 October)
More information is available on the project web page.
A585 (Anchorsholme Lane)
Overnight work to resurface parts of the junction between the A585 and Anchorsholme Lane will be taking place next week between 9pm on Friday (2 October) and 6am on Saturday 3 October. New road markings will also be provided along with an additional speed limit sign to improve safety. Temporary traffic signals will be in place during the overnight work.
A585 Skippool to Singleton
Work will begin on Monday (28 September) on an 11 to 12 week scheme to improve drainage and footpaths along this section of the route. Work will take place around the clock but temporary traffic signals will only be used overnight. The project should be completed before Friday 18 December
A590 Lindal-in-Furness
Temporary traffic lights are in use on the A590, west of Lindal for maintenance work which should be completed by Monday (28 September).
A595 (south of Workington)
Work to replace drainage and improve footpaths started on Monday 7 September between the junction with the A66 at Bridgefoot and further south at Winscales. The work started on Monday 7 September and is due to be completed by Friday 16 October. Work will be delivered using off peak traffic signals between 9.30am and 3.30pm and again between 8pm and 6am each day.
General enquiries
Members of the public should contact the Highways England customer contact centre on 0300 123 5000.
Media enquiries
Journalists should contact the Highways England press office on 0844 693 1448 and use the menu to speak to the most appropriate press officer.
Published 25 September 2015