Press release
Planned roadworks in the North West – summary for Monday 27 April to Sunday 3 May
The following summary of planned new and ongoing road improvements over the coming week is correct as of Friday 24 April and could be subject to change due to weather conditions or unforeseen circumstances. All our improvement work is carried out with the aim of causing as little disruption as possible.
This news article was withdrawn on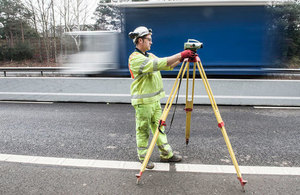 M6 Junction 16 Crewe and Junction 18 Holmes Chapel
Work is taking place to repair two bridges, which carry Congleton Road and Betchton Road over the M6. Lane closures and a 50mph limit will be in place along sections of the M6 while the work is taking place. More information is available on the road project pages.
M6 Junction 17 Sandbach
A major project is being carried out to reduce congestion and allow for faster journey times through junction 17 of the M6, including building a new roundabout and a new link road from the A534 to the M6. Work is taking place overnight between 8pm and 5am during the week, and until 7am at weekends. Some lane closures will also be in place, along with a 40mph speed limit on the A534. More information is available on the road projects pages.
M6 Preston
Overnight work (between 8pm and 6am) to refresh road markings and renew road studs along the northbound carriageway between junction 30 and junction 32 will be taking place next week with lane closures on the main carriageway and junction slip road closures at junctions 31 and 31a. On Monday 27 and Tuesday 28 April the northbound M61 will also be closed at junction 9. All the work will be completed by Saturday 2 May. Good, clearly-signed diversions will be in place.
M6 Tebay
A 6 week Highways scheme to renew the boundary fence near Tebay in Cumbria started on Monday (13 April). Work to replace the current fence - alongside the northbound carriageway and which helps stop animals straying onto the motorway carriageway - is expected to be completed by Sunday 31 May. The work is taking place just south of junction 38 near Roundthwaite and involves closing the hard shoulder and lane 1 during the work. The A685 local road which runs over the M6 will also be affected with temporary traffic signals in place.
M53 Junction 2 Moreton
A project is taking place to upgrade the bridges on the section of the M53 at junction 2, removing weight restrictions and reinstating lanes. The southbound exit and entry slip roads are currently closed to all traffic. The southbound side of the motorway will also be closed for an entire weekend between junctions 1 and 3 from 10pm on Friday 17 April until 5am on Monday 20 April, to allow one of the bridges to be removed. A diversion will be in place. Drivers on the northbound side of the motorway will also need to come off and then back on at junction 2. A 50mph speed limit and narrow lanes are in place. The scheme is due to be completed by the end of August.
M56 Junction 11 Daresbury
A major project is taking place to tackle congestion at junction 11 of the M56 near Daresbury. Clearly signed diversions will be in place when roads are closed.
M60 Junction 8 Sale to M62 Junction 20 Rochdale
A major scheme is taking place to cut congestion and improve journey times on parts of the M60 and the M62 in Greater Manchester. The scheme will require some overnight closures affecting the full carriageway and slip roads, with a 50mph limit in place for the safety of workers and drivers. The project is due to be completed in Autumn 2017. Overnight carriageway closures for gantry removals will take place this week - see news release. For further information see the road project pages.
A55/A483 Roundabout, Chester
Drivers travelling between Chester and Wrexham are being urged to avoid the roundabout that links the A55 to the A483 while work takes place to upgrade the junction. There are currently lane closures on the roundabout, which are causing significant delays. Several overnight closures are taking place from tonight (Friday 17 April) into next week. More information is available on the road project pages. The scheme is due to be completed in May.
A556 Bowdon to Knutsford
A £192 million project is being carried out to create a new dual carriageway linking the M56 to the M6 in Cheshire. A mile-long section of the existing A556 will be upgraded from junction 7 of the M56 near Bowdon before breaking away to the west, bypassing the village centres of Bucklow Hill, Mere and Over Tabley. It will then join up with junction 19 of the M6 near Knutsford. A temporary 40mph speed limit is currently in place between Bucklow Hill and Bowdon, and the new dual carriageway is expected to open in Winter 2016/17.
A595 Bigrigg
A scheme to replace a boundary fence along a section of the A595 near Bigrigg began on Monday 13 April. Temporary traffic lights will be in use while the fence is replaced between Dalzell Street and Springfield Road, south of Bigrigg. The project is due to be completed by the end of next week.
A66 at Stainmore
Work to replace and repair sections of the current drain east of Stainmore Cafe is expected to be completed in early June. A 40mph speed limit will be in place past the road works with any work – often requiring lane 1 or lane 2 closures - taking place between 9.30am and 3.0pm in the day and between 8pm and 6am overnight. A66 work on cycle and foot path
A66 near Cockermouth
A 2 week Highways England project to prevent abuse of a cycle and foot path along the A66 between Brigham and Cockermouth in Cumbria began on Monday (13 April). A new gate is being installed at the entry to the footpath between Fitz roundabout and Lamplugh roundabout. The gate will stop motorised vehicles such as motorcycles from using the footpath – making it safer for cyclists and pedestrians.
General enquiries
Members of the public should contact the Highways England customer contact centre on 0300 123 5000.
Media enquiries
Journalists should contact the Highways England press office on 0844 693 1448 and use the menu to speak to the most appropriate press officer.
Published 27 April 2015