Press release
Planned roadworks in the East of England: weekly summary for Monday 15 - Sunday 21 December 2014
The following information summarises the work being carried out this coming week. It is correct as of the above date but could be subject to change due to weather conditions or unforeseen circumstances.
This news article was withdrawn on
This press release is no longer current.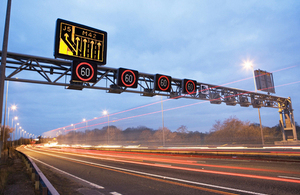 New Work
A14 Woolpit, Suffolk, westbound: Resurfacing works
We are resurfacing the westbound carriageway on the A14 at Woolpit. We will start works on Wednesday 17 December for two nights and we will be working between 8pm and 6am. To safely complete the works we will need to close the A14 overnight between junction 47 (Woolpit Interchange) and junction 44 (Bury St Edmunds East). Westbound traffic will be diverted off the A14 at junction 51 (Needham Market) northbound on the A140 to Scole and then westbound along the A143 to rejoin the A14 at junction 43 (Bury St Edmunds Central).
Ongoing Work
A1, Black Cat roundabout, Bedfordshire and Cambridgeshire: Improvements
A scheme to ease congestion and improve journey time and safety (part of the Government's £317million pinch point programme, which aims to boost local economies by reducing congestion and delays at key locations) has started. It involves a new road alignment to enlarge and widen the existing roundabout, new safety fencing, improved drainage, new surfacing on the roundabout and installation of lighting columns and traffic lights. The work will normally take place between 7.30am and 5.30pm from Monday to Friday, with the occasional night time lane closures. Narrow lanes are now in place in both directions.
Subject to weather conditions, the work is scheduled to last for approximately six months.
A5-M1 Link (Dunstable Northern Bypass), Bedfordshire: Improvements
This scheme aims to provide a link to the M1 that is an alternative to the movement along the A5 and A505 from the A5/A505 junction to the M1 Junction 11. It would reduce journey times and improve journey reliability for strategic traffic currently travelling through Dunstable. It also aims to reduce the number of vehicle and safety related incidents and will support local development plans, economic growth and employment and maximise the return on public investment.
Advanced works started on site in May 2014. Continuation of these works will require some road closures, which will be publicised in advance. These works are important as they will help stay on target for the planned start of the main construction work in spring 2015.
The planned completion date for the project is early 2017. For more information, visit the Highways Agency's website.
A11 Fiveways to Thetford, Suffolk: Major upgrade
The A11 Fiveways to Thetford dualling and improvement scheme was fully opened to traffic on Friday 12 December 2014. Please note that there will be finishing works taking place over the coming weeks.
For further details of the scheme visit the Highways Agency's website.
A14 Girton to Histon (junctions 31 to 32): Lane gain scheme
On 14 April 2014 work started to improve slip roads onto the M11 and A14 and to add an additional lane on the A14 in each direction between Girton and Histon. This is part of the Government's Pinch point Programme. The work is scheduled to take place mainly during the day, with existing lanes narrowed and a 50mph speed limit imposed.
Between Monday 15 December and Friday 19 December, there will a full closure of the A14 Westbound between junctions 36-32. There will also be a full closure of the Eastbound carriageway between junctions 31-32. Both closures will take place between 20:00hrs and 06:00hrs each evening. Two lanes will be maintained in each direction during the day to support peak time traffic flows. The closures and diversion will be well sign posted and details of the diversion can be seen on the Highways Agency's website.
A14 J36-37, Newmarket: Drainage clearance
We are clearing the drainage system in the central reserve on the A14 between junctions 36 and 37 near Newmarket. We start works on Monday 8 December and plan to finish them by Friday 19 December. We will be working between 10pm and 6am on weeknights and we will close lane 2 in both directions to safely complete the works.
A47 Postwick, Norfolk: Postwick Hub junction upgrade
Norfolk County Council started work to upgrade the Postwick Hub junction over the A47 on 12 May 2014. For the duration of the work, there will be an eastbound lane 1 closure and a temporary 50mph speed limit on the A47. In addition, work will require some overnight closures on the A47 from time to time, which will be advertised in advance by the council. Work is due to be completed by winter 2015. For further details, contact Norfolk County Council on 0344 800 8020 or visit www.norfolk.gov.uk.
A120 Little Bentley, Essex: Pellens Corner Average Speed Cameras
Works commenced in October to provide a series of average speed cameras along a stretch of the A120 that has seen many incidents. Works are programmed for completion in January 2015. Week commencing 15 December, works to be undertaken will include construction of the electrical cabinet bases for camera units.
These works will be undertaken during the day under lane closures between 8am and 5pm.
A421 Bedford Southern Bypass eastbound: Resurfacing and drainage clearance works
We will be carrying out works to resurface the carriageway on the eastbound A421 Bedford Southern Bypass. We will be replacing worn out carriageway, road markings and road studs, as well as clearing drainage at this location. Works will start on Monday 17 November and we plan to finish them by Tuesday 23 December. We will be working between 8pm and 6am on weeknights only. To keep road users at a safe distance from the works we will need to close the A421 eastbound between A4280 Goldington Road and A6 Elstow. Eastbound traffic should leave the A421 at A4280, turn left at the traffic lights onto Newnham Avenue, then follow Newnham Avenue onto Longholme Way. At the roundabout, take the second exit onto Rope Walk, and at the next roundabout take the second exit onto A5140 Ampthill Road, and then follow this road to the junction with A421 / A6 at Elstow.
We will remove the traffic management during the daytime, and traffic will run on the A421 on a milled surface, with a temporary 40mph speed limit. Our intention is to better deliver a road surface that has fewer joints reducing maintenance works in the future. The operations should also reduce the duration of the works compared with using the traditional method.
The Highways Agency is working with the industry and road users to reduce the risks of working on the roads. For the safety of road workers and all road users, when you are approaching roadworks:
Keep within the speed limit – it is there for your safety.
Get into the correct lane in good time – don't keep switching.
Concentrate on the road ahead, not the roadworks.
Be alert for works' traffic leaving or entering roadworks.
Keep a safe distance – there could be queues in front.
Observe all signs – they are there to help you.
General enquiries
Members of the public should contact the Highways Agency Information Line on 0300 123 5000.
Media enquiries
Journalists should contact the Highways Agency press office on 0844 693 1448 and use the menu to speak to the most appropriate press officer.
Published 15 December 2014