Press release
Planned roadworks in Devon and Cornwall: Weekly summary for Monday 24 November 2014 – Sunday 30 November
The following summary of planned new and ongoing road improvements over the coming week is correct as of 21 November but could be subject to change due to weather conditions or unforeseen circumstances. All our improvement work is carried out with the aim of causing as little disruption as possible.
This news article was withdrawn on
This content is no longer current.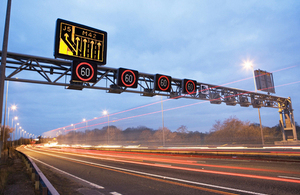 A30 Sticklepath, nr Okehampton – Drainage works
East and westbound lane closure from 8am to 8.30pm (24 Nov)
A30 Between Whiddon Down and Woodleigh, nr Okehampton – Drainage works
24hr eastbound lane closure (24-28 Nov) 24hr westbound lane closure at Whiddon Down (24-26 Nov)
A30 Tongue End, nr Okehampton – Drainage works
24hr east and westbound lane closure (25-26 Nov)
A30 Fingle Glen, nr Exeter – Drainage works
24hr east and westbound lane closure (26-27 Nov)
A30 Between Woodleigh and Whiddon Down, nr Okehampton – Drainage works
24hr westbound lane closure (26-27 Nov)
A30 Ide, nr Exeter – Drainage works
24hr westbound lane closure (26-27 Nov)
A30 Meldon, nr Okehampton – Drainage works 24hr westbound lane closure (26-28 Nov)
A30 Alphington, Exeter – Drainage works
Eastbound lane closure from 8pm to 4am (28-29 Nov)
A38 Manadon, Plymouth – Junction improvement
24hr eastbound narrow lanes and 50mph limit (6 Oct – 22 Dec)
A38 Dry Bridge, nr South Brent – New bridge scheme
24hr eastbound exit sliproad closure. Access for residents only. Diversion via Dart Bridge. (30 Oct – 23 April) 24hr narrow lanes and 40mph limit on main carriageway. (10 Nov – 23 April 2015)
A38 Plympton – Slope stabilisation
24hr contraflow and 50mph limit (11 Nov – 4 Dec)
A38 Kennford, nr Exeter – Junction improvement
24hr contraflow and 50mph limit. Splatford bridge closed with access for residents only. Diversion via A380 southbound up Telegraph Hill to Great Haldon and minor road past Exeter Racecourse to A38. (17 Nov – 31 March 2015)
A38 Ashburton – Resurfacing
Eastbound lane closure and convoy working from 7pm to 4am Mon to Fri. Various sliproad closures with locally signed diversions. (20-29 Nov)
A38 Drumbridge Jct, Heathfield, nr Bovey Tracey – Junction improvements
Various sliproad closures (27 Nov – 30 April 2015)
A38 Deep Lane, Plympton – Resurfacing
Three-way traffic signals at junction of westbound exit sliproad and Deep Lane from 7pm to 7am (27-29 Nov)
A30 Between Launceston and Lifton – Drainage works
24hr westbound lane closure (26-28 Nov)
A30 Highgate, nr Bodmin – Surveys
Westbound lane closure from 9am to 4pm Mon to Fri (17-25 Nov)
A30 Roseworthy, nr Redruth – Tree works
Westbound lane closure from 9am to 4pm (24-28 Nov)
A30 Between Scorrier and Avers, Redruth – Tree works
Westbound lane closure from 9am to 4pm (24-28 Nov)
A30 Five Lanes, nr Launceston – Cabling works
East and westbound lane closure and convoy working from 8pm to 6am (24-25 Nov)
A30 Canon's Town, nr Hayle – Surveys
Traffic signals from 7pm to 6am (25-27 Nov)
A30 Between Innis Downs and Callywith, nr Bodmin – Drainage works
East and westbound carriageway closure from 8pm to midnight. Diversion via A389 through Bodmin (25-26 Nov)
A30 Kennards House, nr Launceston – Cabling
East and westbound lane closure and convoy working from 8pm to 6am (25-26 Nov)
A30 Between Carminow Cross and Innis Downs, nr Bodmin – Drainage works
24hr east and westbound lane closure and 50mph speed limit (26 Nov – 2 March)
A30 Temple, nr Bodmin – Surveys
Eastbound lane closure from 9am to 4pm Mon to Fri (26 Nov – 1 Dec) Westbound lane closure from 9am to 4mp Mon to Fri (26 Nov – 5 Dec)
A30 Between Lifton and Launceston – Drainage works
24hr westbound lane closure (26-28 Nov)
A38 Between Trerulefoot and Tideford, nr Saltash – Resurfacing
East and westbound carriageway closure from 7.30pm to 6am. Diversion via B3249. Traffic signals on Trerulefoot Roundabout on Monday night. (24-25 Nov)
A38 Between Trerulefoot and Lower Clicker, near Liskear – Resurfacing
Westbound carriageway closure from 7.30pm to 6am. Diversion via A374 and B3252 (25-28 Nov)
A38 Between Island Shop Jct, Liskeard and Trerulefoot – Resurfacing
Eastbound carriageway closure from 8pm to 6am. Diversion via A390 to Callington and A388 to Carkeel. (25-28 Nov)
A38 Bodmin Parkway – signing work
Traffic signals from 9pm to 3am (25-26 Nov)
A38 Tamar Bridge – Maintenance works
Eastbound lane closure from 9.30am to 3.30pm (26 Nov)
A38 Dobwalls – Resurfacing
24hr contraflow and 40mph limit for resurfacing (13 Oct – 21 May 2015)
Published 24 November 2014