"Picture Britain" competition in Kyrgyzstan
Awards ceremony for the first republican painting and poster competition by the British Embassy Bishkek took place on 11 June in Bishkek.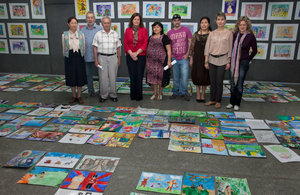 On Tuesday 11 June, HM Ambassador Judith Farnworth presented prizes to the winners of the first British Embassy painting and poster competition for children and young people across Kyrgyzstan. The Ambassador joined a jury of renowned Kyrgyz artists and designers to choose the winners.
More than 500 entries were submitted to the Great Britain-themed competition. Many of the pictures represented a twist on conventional ideas about Britain. The winning designer in the poster competition blended British and Kyrgyz culture through traditional images of marshrutki and double-decker buses; and a red telephone box and a yurt. In a reference to the classic Beatles song, "Strawberry Fields Forever", she depicted the sunglasses of John Lennon and the unmistakable Beatles haircuts in a row of strawberries.
'The paintings reflect the creativity of Kyrgyz young people, and their knowledge of British history and culture', said the Ambassador. 'I particularly liked the way a number of them brought a new interpretation to some old stereotypes about Britain being a nation of tea drinkers or a place where the rain doesn't stop'. Other artworks drew inspiration from Churchill, Shakespeare or the Queen.
The winning artists from across Kyrgyzstan travelled to an award ceremony on 11 June. 'I'm so proud my poster will hang in the new British Embassy' said one of the winners. 'At a time when Britain's doing more in Kyrgyzstan, I wanted to represent the friendship between our two countries said another'.
The paintings will be exhibited at the Balajan art centre in Bishkek until 21 June.
Published 12 June 2013