Pickles takes on town halls' new driveway tax
The government announces new guidance to discourage councils from introducing a new parking tax on people's driveways and parking spaces.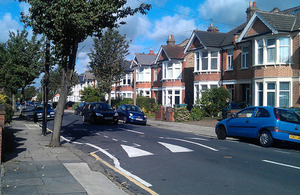 Across the country, assisted by the internet "matching", households are renting out their spare or unused dedicated off-street parking space in and near town centres, train stations and sports grounds. This provides a small income for hard-working families, and helps provide more cheap parking spaces for people to park their car, taking pressure away from on-street parking. Personal finance experts like Martin Lewis of moneysavingexpert.com have recommended this to households as a practical way of raising and saving money.
It is believed that many councils do not like this activity, as it deprives them of parking income - as a result, they are demanding that households apply for planning permission for "change of use". Such a planning application fee costs £385 - councils are threatening fines of up to £20,000 if householders do not apply.
Eric Pickles announced today that the government will be publishing new guidance on change of use making it clear that the public should be able to rent a single parking space without planning permission, provided there is no public nuisance to neighbours, or other substantive concerns. A distinction is made between renting out a car parking space to park a single car (which should not normally require planning permission, where there is no change to the intensity of use), as opposed to changing your garden into a car park or a clear commercial use like a car show room or minicab rank (which would clearly require planning permission).
Eric Pickles, Secretary of State for Local Government, said:
Councils should be welcoming common sense ways that help hard-working people park easier and cheaply and for families to make some spare cash. Councils shouldn't be interfering in an honest activity that causes no harm to others, unless there are serious concerns. Parking charges and fines are not a cash cow for town halls.

This government is standing up against the town hall parking bullies and over-zealous parking enforcement.
Further information
The Department for Communities and Local Government is currently undertaking a review of Planning Practice Guidance, seeking to consolidate the confusing and inaccessible 7,000 pages of guidance. A streamlined, web-based resource will be launched in "beta" test mode later this month.
This will include new practice guidance on when planning permission is, and is not, required. Ministers will introduce new guidance on the issue of change of use that includes renting driveways. New guidance on changes of use will also make clear that whether an application for change of use is needed should be considered on the basis of the individual circumstances. Material change of use is determined on a case-by-case basis to avoid situations where people may seek to flout the rules by, for example, turning their front garden into a car park.
Moneysavingexpert.com has published a guide on how households can rent out their spare parking space, and how people can park for less. There are a number of websites which offer a "matching" service between people who want to rent out their drive and hire it out. They concede that it currently is a "grey area" in planning law, so highlighting the public need for clearer guidance.
Published 3 August 2013