Pickles outlines plans to abolish regional government
Communities and Local Government Secretary Eric Pickles has today announced the Government's intention in principle to abolish the remaining…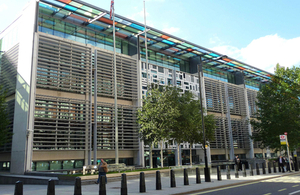 Communities and Local Government Secretary Eric Pickles has today announced the Government's intention in principle to abolish the remaining eight Government Offices for the Regions across England, subject to using the Spending Review to resolve consequential issues. The final decisions will be made at the end of the Spending Review in the autumn.
Reducing bureaucracy and rolling back regional government is central to the Government's wider aims of transferring power from central government to councils and communities.
The Government has already announced the abolition of the Government Office for London, the Regional Spatial Strategies, the Regional Assemblies/Regional Leaders' Boards and the Regional Development Agencies.
The Coalition Agreement committed Government to a review of the remaining eight Government Offices as part of its wider localism and decentralisation agenda, and Ministers have decided in principle to close the Government Offices for the Regions.
Over the coming weeks the Department for Communities and Local Government will continue to work with other Government Departments, trade unions and others to lead a process to agree arrangements for the transfer of a small number of on-going functions and redeployment of staff.
Eric Pickles, the Secretary of State, said:
I do not believe the arbitrary government regions to be a tier of administration that is efficient, effective or popular. Citizens across England identify with their county, their city, their town, their borough and their neighbourhood. The case for elected regional government was overwhelmingly rejected by the people in the 2004 North East Referendum. Unelected regional government equally lacks democratic legitimacy, and its continuing existence has created a democratic deficit.

Let me be clear: The Government Offices are not voices of the region in Whitehall. They have become agents of Whitehall to intervene and interfere in localities, and are a fundamental part of the 'command and control' apparatus of England's over-centralised state.
During the Spending Review the 13 sponsor Departments of the Government Offices will work on the details of the closure and transition arrangements and consider how the civil resilience responsibilities will be reallocated. The detailed outcome will be reflected in the final decisions which will be announced in the autumn.
Notes to editors
There are nine offices based in the Government regions: North East, South West, South East, West Midland, Yorkshire and the Humber, London, East Midlands, North West, East of England.  The Department for Communities and Local Government oversees the Government Office Network, on behalf of all sponsor Departments.

A copy of the written statement laid today can be found at www.communities.gov.uk/statements/newsroom/regionalgovernment
Twitter
Keep up to date with the Department by following us on Twitter (external link).
Media enquiries
Visit our newsroom contacts page for media enquiry contact details.
Published 22 July 2010