Pickles calls time on town hall quango forcing councils into bin cuts
Taxpayers deserve decent services - rather than fortnightly collections imposed from above.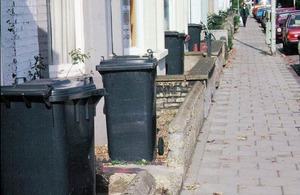 Communities and Local Government Secretary Eric Pickles has today (18 June 2010) instructed the Audit Commission to repeal guidance to local authorities that could signal an end to the practice of fortnightly bin collections.
The Audit Commission recently issued a Waste Management Quick Guide to councils across the country. The Secretary of State believes that this document triggered the move to unpopular fortnightly collections and was designed purely as a cost cutting measure. The Secretary of State said that councils have been under the threat of being marked down in their inspection reports if they failed to comply with this guidance.
The Secretary of State is today writing to the Audit Commission requiring them to repeal this guidance, freeing councils to return to weekly bin collections. If the Audit Commission refuse, the Secretary of State has a legal power to 'direct' the Commission. Today's announcement follows on from the recent decision to cancel the previous government's plans for new bin taxes on family homes.
Eric Pickles, Secretary of State for Communities and Local Government, said:
Fortnightly collections are unpopular and unhygienic. It's the traditional weekly bin round that people want. Diktats imposed from the centre forced councils to listen to bureaucrats over residents.

The new government will work with councils to freeze council tax and help them improve the frequency of rubbish and recycling collections. Let's use incentives and rewards to increase recycling, rather than cuts, fines and taxes. Families now pay a fortune in council tax - it's time they got a better deal.
Published 18 June 2010