World news story
'Photos talk': UK funds photography training to Palestinian youth
UK Deputy Consul General in Jerusalem Benjamin Saoul inaugurated a photo exhibition for young artists in Gaza.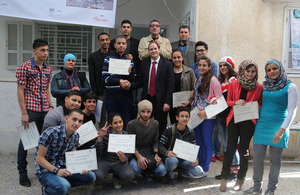 The exhibition, which displayed photographs of daily life details and surroundings in Gaza and the West Bank, was the final product of a UK- funded Arab partnership project.
'Photos Talk' is a project funded by the British Consulate General in Jerusalem and implemented by the Palestinian Youth Association for Leadership And Rights Activation (PYALARA). It provided photography training to young Palestinians in the West Bank and Gaza. The training allowed a free and creative space for the participants to express themselves and raise issues from their socio-political environments. The young Palestinians captured through their camera lenses issues like customs and traditions, child labour, occupation, and the struggle of fishermen in Gaza.
Following the exhibition, Benjamin Saoul said:
"The population of Gaza is suffering, and young people in Gaza face a choice. They can take a path of exclusion and of extremism. Or they can choose to invest in their future, in their skills and in their society, despite the huge challenges they face.
"The young people involved in this project are taking this second path, through learning professional photography skills. I applaud their hard work and determination. And I am proud that Britain is supporting them.
"I was moved and impressed by these brilliant photos of Gaza. I look forward to Britain continuing to invest in these energetic young leaders: they are the future of Gaza."
Published 25 November 2013