News story
Photonic sensing technologies: apply for business funding
Businesses can apply for funding to develop applications of photonic sensing technologies ranging from food safety to health and security.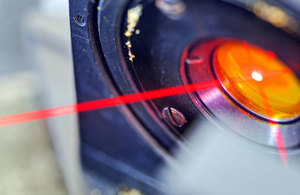 A European co-funding programme has up to €18 million to invest in a range of business projects to develop new photonics-based sensing technologies that aim to improve market share for Europe's businesses.
Photonic sensors have wide applications including for smart barcodes, new sensing systems in the fight against crime and terrorism, advanced manufacturing and production techniques, environmental monitoring and in new medical diagnostic devices.
Projects will be funded in five application areas:
safety including food safety
civil security
manufacturing/production
environmental monitoring
medical applications
UK businesses will need to co-operate with at least one other partner from another participating country or region. The participating countries and regions are:
Austria
Flanders (Belgium)
Germany
Israel
Poland
Portugal
Turkey
Tuscany (Italy)
United Kingdom
Organisations from other EU member states or associated states can also participate in projects.
Competition information
the competition is open, and the deadline for applications is 5pm Central European TIme on 5 December 2016
the competition is part of the ERA-NET co-funding programme and is jointly funded by participating countries and regions and the European Commission
projects must include at least 1 UK business to be eligible for UK funding
the UK has up to €1.8 million to support UK businesses, and businesses could attract up to 70% public funding of their costs
funding will be for small and large projects, and total costs are expected to range between €0.5 million and €4 million
projects are expected to last between 24 and 36 months
Published 8 September 2016