News story
Photocentric: firm develops award-winning 3D printing technology
A new type of 3D printing technology developed with the support of Innovate UK has won a major award at a European innovation event.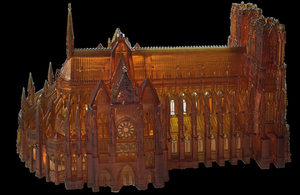 A business set up to develop innovative photo-sensitive materials, or photopolymers, has won a European award for developing a new 3D printing technology.
Peterborough-based Photocentric began developing the 3D printing technology after winning a grant from Innovate UK to develop a prototype.
Its idea was to use an unmodified liquid crystal display (LCD) screen emitting pure daylight as the imaging source and to develop polymers to work with it.
The resulting Daylight Polymer Printing technology led to the company winning the Europe 2016 award for innovation in 3D printing made at the IDTechEx show in Berlin.
The company also won a Queen's Award for Enterprise: Innovation in this year's awards.
Find out more about applying for Innovate UK funding.
Innovation is at the core of Photocentric
Paul Holt, managing director of Photocentric, said:
Innovation is one of our business's core principles and in 3D Printing we have invented a completely new way to create images.
This award has meant more to us because it was chosen by industry experts who have recognised the technical achievement.
Company's 3D printer brings big advantages
The biggest advantage of Photocentric's 3D printer is the LCD screen. The screens are manufactured in huge volumes and cost only a few pounds. The low-light intensity also generates little heat and brings significant advantages to the printing process.
The printer could be used for low-cost high-resolution 3D printing and enable low-cost mass production of 3D parts.
Photocentric employs 50 people at its manufacturing base in Peterborough and a further 25 in Phoenix, USA.
See how Innovate UK support has helped other businesses achieve success
Published 22 May 2016