Press release
Phone shop employee has sentence increased for attempted rape
Javed Zaheer will spend longer in prison after the Solicitor General referred his original sentence for being too low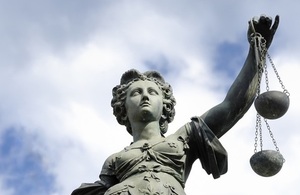 A man jailed for attempted rape will spend longer in prison after the Solicitor General, Robert Buckland QC MP, referred his sentence for being too low.
Javed Zaheer, 23, had asked his 16-year-old victim to return to the phone shop where he worked after hours, under the pretence of collecting her repaired phone. When she did so, the two talked briefly, before Zaheer grabbed and kissed her while attempting to remove her clothing. He also attempted to rape her, but the victim managed to struggle free.
Zaheer became angry but eventually let the victim leave, at which point she reported him to the police.
Zaheer was originally sentenced at Wood Green Crown Court in April, where he was given a sentence of 3 years 9 months' imprisonment. Today, after the Solicitor General's referral, the Court of Appeal increased his sentence to 5 years and 6 months' imprisonment.
Commenting on the sentence increase, the Solicitor General said:
Zaheer has left a young girl with ongoing emotional trauma, and it was only the actions of the victim which prevented him from doing more damage. I am pleased the Court of Appeal has agreed with my referral, and hope the increased sentence brings some comfort to his victim.
Published 6 July 2018