World news story
Philippines well-placed to lead in renewable energy
This was published under the 2010 to 2015 Conservative and Liberal Democrat coalition government
UK companies shared their capabilities in renewable energy at a seminar organised by the British Embassy, the UK Trade and Investment and BCCP.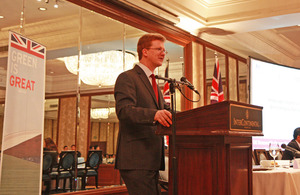 Among the presenters were British engineering firm Arup, wind energy developer and service provider Wind Prospect, waste to fuels developer Aseagas and legal experts Quisimbing Torres / Baker & McKenzie.
British Ambassador Stephen Lillie said the market for renewable energy is growing strongly, as over 118 countries already have renewable energy targets in place. He sees renewable energy as a driver of a 21st century industrial revolution.
Ambassador Lillie said:
It will be an increasing element in job creation with around 110,000 people already employed in the renewables sector and its supply chain. He added the Philippines is blessed with resources that makes it "well-placed to lead in the renewable energy industrial revolution.
Meanwhile, the British Embassy's Climate Change Attaché Roslyn Arayata showed the urgent need to keep global temperature rise below 2 degrees celsius through reducing greenhouse gases such as promotion of renewable energy. Data shows that 55% of global emissions come from developing countries, thus all countries – both developed and developing - need to work together. Citing the Stern Review on the Economics of Climate Change, Ms Arayata showed that by 2100, the cost of doing nothing to curb the effects of climate could be as much as 3% of global GDP per annum. In South East Asia the cost is even higher at 6.7% GDP on average.
Energy Director Mario Marasigan delivered a speech on behalf of Energy Secretary Carlos Jericho Petilla, who welcomed would-be investors in the Philippine renewable energy sector. "Your participation here is vital… your presence here… positions you for crucial roles in the development of the Philippine renewable energy landscape, and we need you."
Director Marasigan also provided updates on the Philippines' plans and policies for the renewable energy sector following the launch of the Philippine Energy Plan 2012-2030.
Document information
Published: 20 February 2013