World news story
Philippine premier of National Theatre's Frankenstein starring Benedict Cumberbatch to be screened in Cebu
This was published under the 2010 to 2015 Conservative and Liberal Democrat coalition government
The GREAT campaign goes to Visayas with the much-anticipated special screening of National Theatre Live's 'Frankenstein'.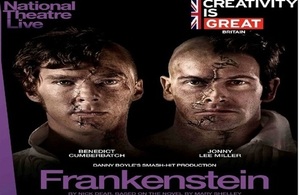 Directed by Academy Award®-winner Danny Boyle (Trainspotting, Slumdog Millionaire), Frankenstein features breakout star Benedict Cumberbatch (12 Years A Slave, Star Trek: Into Darkness) and Jonny Lee Miller (Trainspotting, Mansfield Park) alternating roles as Victor Frankenstein and his creation.
SM City Cebu Cinema 1 will be broadcasting the live stage performance on March 13.
British Ambassador Asif Ahmad is inviting everyone to come:
We are delighted to partner with SM City Cebu to bring this production of Frankenstein for the very first time in the Philippines. This performance from the world-renowned National Theatre is a great showcase of the creativity and talent that the UK offers. I'm sure that seeing this performance will encourage you to visit the UK and experience the vibrant live theatre scene and range of creativity in the great cities of the United Kingdom.
NTL's Frankenstein was a sell-out hit at the National Theatre, and the broadcast has since become an international sensation, experienced by almost half a million people in cinemas around the world. National Theatre Live describes:
Childlike in his innocence but grotesque in form, Frankenstein's bewildered Creature is cast out into a hostile universe by his horror-struck maker. Meeting with cruelty wherever he goes, the friendless Creature, increasingly desperate and vengeful, determines to track down his creator and strike a terrifying deal. Urgent concerns of scientific responsibility, parental neglect, cognitive development and the nature of good and evil are embedded within this thrilling and deeply disturbing classic gothic tale.
Performances are open to the public. Ticket prices are on sale at P250 each, and may be purchased through www.smtickets.com or at the SM City Cebu Cinema ticket counter.
The screening is part of the GREAT campaign spearheaded by the British Embassy Manila to bring the best of British business and culture to the Philippines. For more information about National Theatre Live and the GREAT campaign, visit the British Embassy Manila Facebook page and Twitter account @ukinphilippines