Philip Langsdale appointed new Chief Information Officer
The Department for Work and Pensions today announced the appointment of its new Chief Information Officer.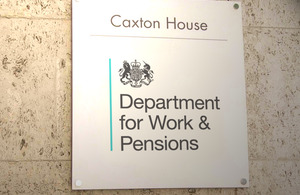 The Department for Work and Pensions today announced the appointment of Philip Langsdale as its new Chief Information Officer.
Mr Langsdale, currently Chief Information Officer at BAA, will succeed Joe Harley who retired at the end of March.
At BAA, Mr Langsdale delivered a wide range of systems including new collaborative systems to improve airline ground operations at Heathrow. Prior to that, he was responsible for delivering the BBC digital strategy, including the design of Freeview, and at ASDA for implementing a ground-breaking store driven ordering system.
Permanent Secretary, Robert Devereux said:
This is a key role for the Department and I am delighted that we have secured someone of such exceptional calibre from a field of very strong candidates.  Philip has a proven track record of delivery and I am confident that he will provide the Department with the vital expertise and strong leadership needed as we take forward our reform programme.
Incoming Chief Information Officer, Philip Langsdale, said:
I am delighted to be joining DWP and to have the opportunity to support the challenging and important reform agenda.  I look forward to working with colleagues in the Department, and its suppliers, to deliver better quality service and value for money.
Notes to Editors
Biography of Philip Langsdale
After University Philip joined IBM, then Nolan Norton and Coopers & Lybrand. In 1988 he joined Midland Bank as Director of IT Strategy before moving to Asda in 1992 as Director of IT. In 1997 he had a short spell at Cable and Wireless and then joined the BBC, becoming Chief Executive, BBC Technology. In 2002 he set up his own consultancy before moving to BAA in 2008.
Published 14 May 2012