World news story
phD Scholarships launched for Al-Azhar researchers in the UK
The British Embassy launches phD scholarships for Al-Azhar researchers in top UK Universities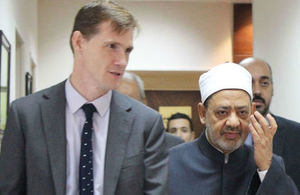 On Monday 5 September, British Ambassador to Egypt John Casson met a number of Al-Azhar scholars, along with representatives from Al-Azhar and the British Council, to celebrate the inaugural year of the new Al-Azhar UK scholarship scheme.
The initiative is a partnership between Al-Azhar, the British Embassy in Cairo, and the British Council and is supported by the Grand Imam of Al-Azhar Ahmed el-Tayyeb and the Archbishop of Canterbury Justin Welby.
With emphasis on educational and cross-cultural development, the programme will give young Al-Azhar graduates with outstanding academic backgrounds and strong leadership potential the opportunity to pursue PhD studies at top British universities. The scholars will be studying in the fields of theology and comparative religions, and in doing so will build strong links not only between UK universities and Al-Azhar but also across cultures, societies, and religions.
The programme is generously supported by a small number of donors including CIB Foundation, Mansour Group, Assem Allam, and Future University.
British Ambassador John Casson said:
I am proud that the UK is supporting this important initiative, which will help raise up a new generation of Azhari leaders who promote the values of peace and tolerance. Now more than ever, we need to build partnerships like this one, which encourage dialogue and mutual understanding between our different societies, cultures, and religions.
David Townhill, Director English at the British Council said:
This is an important new step in our ongoing collaboration with Al Azhar, a collaboration which aims to promote interfaith and intercultural dialogue by providing young people with the skills required to communicate about their faith in English. The PhD scholarships will allow academics from Al Azhar to study and learn about other religions in international universities and to bring that learning back to the theological faculties of Al Azhar.
The Grand Imam's adviser Dr. Mohammed Noseir said:
Today marks an exciting new phase in ten years of cooperation between the UK and the Al Azhar University. In 2007 the British Embassy and the British Council established an English language centre in Cairo, and since then we have built on this relationship, culminating in the Al Azhar/ UK PhD scholarship scheme. Today we celebrate the first group of scholars, leaving to start PhD studies in the field of Islamic studies at various prestigious British universities. We wish them good luck and hope they continue to deliver our vision, both globally and locally, promote the values of moderation, and disseminate the true image of Islam. I'm proud to have helped build cooperation between Al Azhar and the UK, and credit should go to the British Ambassador who has shown great enthusiasm and dedication in driving forward this initiative.
Published 7 September 2016