World news story
Peru's business roadshow arrive in UK to deepen ties
Senior investment officials from Peru visited Manchester, in North West England, and London seeking to find out more about UK rail expertise and to drum-up interest in export and investment opportunities in Peru.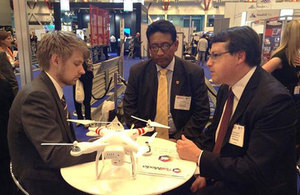 Javier Illescas, Executive Director of ProInversion, Peru's state agency for private investment promotion, and Jose Zarate, ProInversion Railway Specialist, visited UK for one week to promote opportunities in several growing sectors in Peru.
The delegation met with a number of regional businesses as well as local officials from UK Trade and Investment (UKTI) during their visit to Manchester. Mr. Illescas said there were "many, many opportunities in Peru for North West businesses not only in transport infrastructure, but in waste management, energy and sanitation".
ProInversion officials were also invited by UKTI to take part in the Rail Industry exhibition "Infrarail" in London on 20, 21 and 22 May. Mr. Illescas also met financiers, consultants and railway specialists during his visit to London last week. He was impressed by the development of the railway industry and recognised the deep knowledge of UK companies. He said "we are keen to have more competition in the Peruvian market, so we have come to the UK to raise awareness of what we have got going on".
Peru has a very stable, growing economy with an average annual growth rate of 6.5% between 2002 and 2012. There is a very significant investment programme ongoing in Peru; with a public-private portfolio of US$15billion. Projects include the Line 3 and 4 of the Metro system in Lima which are in the feasibility studies stage, but expected to be awarded in 2016, and ProInversion is looking for UK engagement.
The tailored programme for ProInversion in London, arranged by UKTI Peru and the Peruvian Embassy in the UK, included meetings with the London Chamber of Commerce and Industry, the Railway Industry Association, and a presentation for members of the trade organisation British Expertise and the International Project Finance Association. ProInversion officers also visited the Crossrail project in London.
More information
UKTI Peru seeks to promote commercial links between British and Peruvian companies. In 2013, we helped more than 100 UK companies do business in Peru and shared information with hundreds of Peruvian companies on business opportunities in the UK.
If you are a British Company interested in finding out more about business opportunities mentioned by the Peruvian delegation or a Peruvian company in search of British business partners or suppliers, please contact the UKTI Team at the British Embassy in Lima UKTI.lima@fco.gov.uk
Published 3 June 2014