World news story
Peru's Attorney General receives Crown Prosecution Service
Pablo Sánchez Velarde welcomed Public Prosecutor Patrick Stevens, Crown Prosecution Service Director.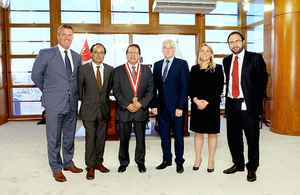 On Monday 19 of January, Peru's Attorney General, Pablo Sánchez Velarde, received the visit of public prosecutor Patrick Stevens, International Director of the Crown Prosecution Service and the British Ambassador in Peru, Anwar Choudhury. At the meeting, issues on cooperation between Peru and Great Britain in judicial matters were discussed.
For photos, please click here.
Published 6 February 2014