World news story
Peru and UK explore cooperation agreements in criminal matters
Victor Ticona Postigo received the cordial visit of Ambassador Anwar Choudhury and Crown Prosecution Service.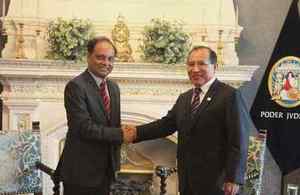 On Monday 19 of January, President of the Judiciary, Victor Ticona Postigo, and the British Ambassador to Peru, Anwar Choudhury, discussed a strategic alliance to combat illicit drug trafficking, money laundering and streamline judicial process through exchange in technology issues. They also discussed the possibility of signing agreements on cooperation in criminal matters, related specifically to corruption issues, drug trafficking and money laundering.
During the diplomatic visit, Mr Ticona said that one of the main thrusts of his administration is taking action to combat and punish these crimes effectively.
Peru's highest judicial authority and Ambassador Choudhury reflected on the common problems faced by Peru and the UK in justice matters and agreed to join forces to overcome them.
The British Ambassador attended the meeting with Patrick Stevens, international director of Crown Prosecution Service (General Prosecutor) of Great Britain; George Zachary, counsel in criminal justice from the British Embassy and representative of the International Crown Prosecution Unit Service; and Kelly Mathews, also representative of that unit.
Before concluding the meeting, the head of the judiciary gave the visitor a replica of the Palace of Justice façade and a publication on justice issues.
Finally, Ambassador Choudhury signed the book of Supreme Court distinguished visitors, as evidence of his visit to this court.
For more information, please click here.
Published 6 February 2015