News story
Perth summit 'good for the Commonwealth'
Lord Howell has described the reforms achieved at the 2011 Commonwealth Heads of Government Meeting as "some of the most significant" in recent history.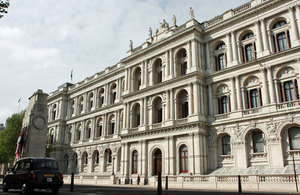 At CHOGM, the heads of Commonwealth governments agreed to a 'Charter of the Commonwealth' which will set out in one place, and in a straightforward way, the core values to which Commonwealth members are committed. Heads also agreed steps to reform the Commonwealth Ministerial Action Group and demonstrated their support for real and tangible action on equality and development issues.
In his first speech since the Commonwealth Heads of Government Meeting (CHOGM) held in Perth in October, Minister for the Commonwealth Lord Howell said:
"I believe that the Perth summit was good for the Commonwealth, and good for the UK. We saw some of the most significant reforms in recent Commonwealth history.
"The Perth summit illustrated clearly that the Commonwealth is about much more than just government to government contacts. It was not just heads of government that met in Perth, but a plethora of non-governmental organisations, civil society, young people, businesses and local Commonwealth citizens. This is what makes the Commonwealth so unique, and so valuable to its members and the UK.
"I hope that ..the reform outcomes we achieved in Perth will renew and reinforce the Commonwealth's reputation as a force for good across the world."
Published 10 November 2011