Permanent Under-Secretary Sir Simon McDonald visits Lima to strengthen UK-Peru bilateral relations
Sir McDonald met with President Vizcarra to strengthen trade and cooperation relations and accompanied the signing of new agreements for joint work on infrastructure.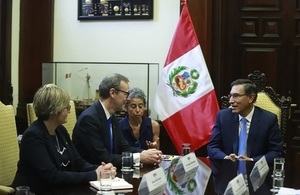 Sir Simon McDonald, Permanent Under-Secretary of the Foreign and Commonwealth Office, met on 29 January in Lima with President Martin Vizcarra and Foreign Minister Gustavo Meza-Cuadra, with whom he discussed the long and close bilateral relationship between the United Kingdom and Peru.
Sir Simon McDonald also met with the Minister of Economy, María Antonieta Alva, and participated in the signing of two agreements between this sector and the Embassy of the United Kingdom in Peru, to continue promoting joint work on infrastructure. Sir McDonald said:
Peru has fully joined the United Kingdom's Global Infrastructure Program and these Memorandums of Understanding that have been signed today express the commitment of both countries to continue working together, sharing methodologies and building institutional capacity to close the infrastructure gap and to promote sustainable development in Peru.
These two agreements will promote the exchange of information and good practices between the Peruvian Ministry of Economy, the British Infrastructure and Projects Authority and the Department for Business, Energy and Industrial Strategy.
During his visit, Sir Simon McDonald also witnessed the work done by the International Red Cross, with part of the more than 50 million pounds the United Kingdom has contributed to address the humanitarian crisis of Venezuelan migrants in the region.
The new agreements signed between the two Governments and the intense day of meetings that marked the visit of the Permanent Under-Secretary of the Foreign and Commonwealth Office are evidence of the United Kingdom's desire to continue strengthening trade and cooperation relations with Peru, in the new chapter that the United Kingdom is starting with its departure from the European Union.
Published 13 February 2020