World news story
Permanent Under-Secretary at the FCO visited Montevideo.
Sir Simon McDonald spent a day in Uruguay as part of a tour that also took him to Argentina and Paraguay.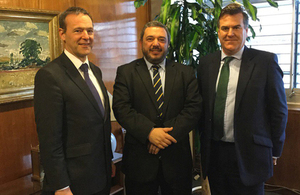 Sir Simon McDonald had a full day of meetings and events in Montevideo that allowed him to get an insight into the main issues on which the embassy works and the opportunities to deepen the UK-Uruguay relationship.
His day began with a business and networking meeting with members of the Uruguayan Chamber of Information Technologies (CUTI) who recently attended the London Tech Week as part of a UK Trade and Investment (UKTI) Latin American mission.
Then he visited the British Council offices in Uruguay and Plan Ceibal to know how the project Ceibal in English works and witnessed a class by a teacher who communicated via videoconference with children in Rivera.
Before heading to the Ambassador's residence for a lunch with members of the Uruguayan-British Chamber of Commerce in Uruguay and other business contacts, he chaired an all staff meeting at the Embassy.
In the afternoon he was received by Deputy Foreign Minister José Luis Cancela to discuss various issues related to the United Nations. Then he met with the President of the Central Bank, Mario Bergara.
In the evening Simon took part in an informal gathering organised by the Association of Graduates from British Universities (GBUA) to meet the 29 Uruguayan Chevening scholars that will study master's degrees at British universities starting in September/October. He told them to make the most out of their studies but also to enjoy their time in the UK, the cultural opportunities and the friendships they will make for life.
Published 2 August 2016