Press release
People urged to #gofishing in Yorkshire as new river fishing season begins
New fishing season begins on Monday 16 June.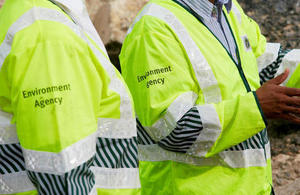 Anglers old and new are being urged to buy a rod licence for the start of the new river fishing season and discover some excellent fishing opportunities they never knew existed in Yorkshire.
The new fishing season on rivers, streams and drains starts on Monday (16 June), just a day after Father's Day (did you buy him a licence?). It is also the second chance this year to Take a Friend Fishing for free.
The Take a Friend Fishing campaign has been organised and run by the Angling Trades Association with the Environment Agency and Angling Trust.
To take part, print the rod licence voucher form, fill in the person's details, validate it online and read the terms and conditions.
Pictures from the day, including venue name, catch details, captor's name and daytime telephone number, can be sent to info@takeafriendfishing.co.uk.
It costs anglers just £27 (fixed at the 2011 price) for a full annual licence and the money goes towards Environment Agency projects for the area's vast range of rivers, streams and man-made drains.
Steve Chambers, an Environment Agency fisheries specialist said:
We are blessed with exceptional fisheries of national renown in this part of the country.

The chance of encountering some exceptional fish is a significant attraction to anglers who should now be buying a licence to try their luck and skills on local riverbanks as the new season approaches.

We want to improve fish stocks and provide a better environment for wildlife and people. We want to make it possible for more people of all abilities to enjoy angling and for our fisheries to provide a positive contribution to the quality of people's lives.
Rivers in the area offer barbel and chub in the Swale, pike and perch in the Ouse. A variety of stillwaters are also home to carp, bream and tench, while the trout fishing at in many of our reservoirs is good quality.
There are over 6,000 fisheries listed on our online database to find a location close to you - explore them on the fishinginfo website
Examples of where the rod licence money goes in Yorkshire:
Creating new fish passes which can be used by all species, notably at Sprotborough where the fish pass has now opened up over half the length of the river to all species of fish including eels. This will help the burgeoning fish populations reach their full potential.
Bankside improvements on many rivers designed to provide cover and sources of food for fish. Work undertaken with the Yorkshire Dales Rivers Trust for example has led to bankside planting and fencing on tributaries of the River Ure which will benefit fish and help control erosion and reduce the amount of sediment entering the river.
In Broughton Beck, a tributary of the River Aire, we worked with volunteers from Forest of Bradford to securely install woody debris to narrow the channel, vary flows and provide cover for fish.
We have created two ark sites in secret locations to ensure populations of pure bred crucian carp are available into the future. These fish can be used by our fish farm in Nottingham to ensure the remarkable native fish are available for future stocking programmes for years to come.
We have worked with angling clubs and fishery owners to improve access to a number of fisheries including at Cooper Bridge fishery near Huddersfield.
When fish get into difficulties, for example being stranded after flooding, we help rescue fish and return them to the rivers they came from. When fish from the River Ouse became stranded in Rowntree Park in York we netted roach, perch and pike and safely returned them to the river.
Published 16 June 2014