Press release
Penzance community flood risk drop-in
The Environment Agency has improved the way it maps flood risk from the sea in Mounts Bay, Cornwall and will hold a drop-in to help residents understand what it means for them.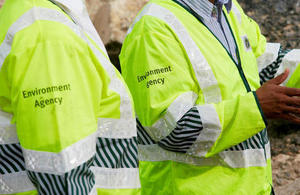 Residents can learn more about the risks of flooding and how to prepare at a community drop-in on Tuesday 10 November 2015 between 6pm and 8pm at St Mary's Church of England Primary School, Redinnick Place, Penzance.
The Environment Agency's improved flood model shows that more homes and businesses in Mounts Bay are at risk of flooding from the sea. But help is at hand with the extension of a free flood warning service to cover homes and businesses that are now at flood risk.
Flood warnings can be received on your landline or mobile, but also by text message, email or fax. Receiving a warning about the onset of flooding is one way you can make preparations to stay safe and minimise damage to your home or business.
Duncan Struggles, Flood Resilience Advisor for the Environment Agency said:
Our staff will be available on 10 November to help you find out if you are at risk of flooding from the sea and sign up for our free flood warnings. It's also a great opportunity to talk to us about the changes we'll be making to our flood maps, and get advice on preparing for a flood.
Alternatively, residents can find out if warnings are available in their area by calling Floodline on 0345 988 1188 or visiting www.gov.uk/sign-up-for-flood-warnings.
Remember when you receive a flood warning, flooding of homes and businesses is expected. People should immediately take the actions recommended by the Environment Agency and the emergency services.
The community drop-in coincides with the Environment Agency's national Flood Action fortnight (2 to13 November) to encourage people to be prepared for flooding this winter.
Published 6 November 2015