Press release
Pensions Minister's radio surgeries extended into 2015
A series of live radio phone-ins, in which a DWP minister takes calls from listeners on pensions, is to be extended into 2015.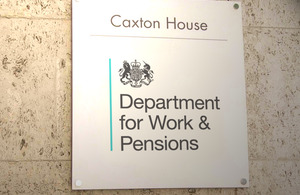 A series of live radio phone-ins, in which a DWP minister takes calls from listeners on all things pensions – from automatic enrolment to the new State Pension – is to be extended into the new year.
Pensions Minister Steve Webb's weekly appearances on national and local radio stations have proven a hit with listeners all over the UK – from Scotland to the south west of England.
Members of the public have been calling in to BBC and commercial stations to quiz the Minister live on air about how the government's radical pension reforms will affect them, since he kicked-off his tour with a session on BBC Radio 2's Jeremy Vine show in November.
Since then, Mr Webb – the longest-serving Pensions Minister in decades – has also talked to listeners on BBC radio stations in Manchester, Scotland, Somerset and Newcastle, plus the independent London-based station Share Radio.
And now listeners in even more areas will get the chance to have their questions answered, as the programme has been extended into 2015. The first session of the new year takes place on BBC Radio Kent on 8 January, followed by BBC Radio Humberside on 15 January and BBC Radio Cornwall on 19 January.
Minister for Pensions Steve Webb said:
From automatic enrolment, to the new State Pension, to unparalleled freedoms for people to access their own pension pots, this coalition government has done more than any other in the post-war period to overhaul the system and put fairness back at its heart.

I have been fascinated to take questions from people from all walks of life, to hear their experiences as well as help them understand exactly what our changes mean for them and how they can make the most of our reforms. That is why I'm extending this programme into 2015.
With people now living longer than ever before, as well as a range of radical pension reforms having been legislated for, it's more important than ever that people understand their options. The Minister's aim is to help bring clarity to what can, for some, be a daunting subject by engaging directly with members of the public who want to find out more.
Typically the radio sessions have lasted between 45 minutes and an hour. As well as answering live questions, he has responded to questions and comments sent in by listeners using email, text, Facebook and Twitter.
The Minister has also been engaging with the public through live web-chats, and in November he spent an hour answering questions posed by members of online forum Gransnet. A similar event taking place on 8 January will see the Minister answering questions put to him live by readers of the Financial Times website.
Readers of print media have also been invited to have their questions answered, and in December he took part in a question and answer session in partnership with the Daily Telegraph.
More information
The new State Pension
When the new flat-rate State Pension takes effect in 2016, it will create a simplicity that hasn't existed in decades, giving people a greater sense of economic security and peace of mind in retirement.
The reforms will tackle inequalities of the past, with women, carers, lower earners and the self-employed to benefit the most.
In the first 10 years, analysis suggests that around 650,000 women are expected to benefit, receiving on average £8 a week more in State Pension.
Automatic enrolment
Instead of choosing to join a workplace pension scheme, individuals now have to actively decide that pension saving is not for them and opt out.
We have now auto-enrolled more than 5 million people into a workplace pension giving them the opportunity to save for the first time or to save more.
We have legislated for a charge cap on default schemes to ensure the pensions into which people are automatically enrolled offer value for money.
Pension Freedoms
The coalition government has scrapped the rule that people paying into private pension schemes had to buy an annuity.
From April, savers in private schemes will be able to withdraw their cash in one lump sum once they reach the age of 55, offering them greater freedom and flexibility.
To find out more about pension reforms, or to book the Minister for Pensions Steve Webb to appear on your station, call Stuart Woledge on 020 3267 5134.  
Contact Press Office
Media enquiries for this press release – 0203 267 5134
Press Office
Caxton House
Tothill Street
London
SW1H 9NA
London Press Office (national media and London area enquiries only – not questions about personal claims) 020 3267 5144
Out-of-hours (journalists only) 076 59 108 883
England and Wales (local media enquiries) 029 20 586 then 097 or 098 or 099
Scotland (local media enquiries) 0131 310 1122
Follow DWP on:
Published 31 December 2014