Press release
Pension saving at the lowest level in 10 years
Only 38% of working-age people - are saving into a private pension, the lowest level in the past ten years.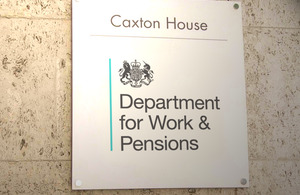 Only 38% of working-age people - 11.6 million out of 30.4 million people - are saving into a private pension, the lowest level in the past ten years, new analysis by the Department for Work and Pensions showed today.
This highlights exactly why automatic enrolment - introduced from October 2012 - is so critical.
The figures show a steady decline in pension saving between 1999/2000 and 2009/10, with the decrease being most dramatic among men and the under 40s.
While the overall number of people saving into a private pension fell from 46% in 1999/00 to 38% in 2009/10, pension saving among men fell from 52% to 39%. And among people aged between 20 and 39 years old pension provision fell from 43% to 31%.
Minister for Pensions Steve Webb said:
These are alarming figures and they underscore exactly why our pension reforms will be so vital. With fewer people saving into a pension, lower annuity rates and an average of 23 years in retirement, many people could face a poorer future in their later lives.

We simply must put a stop to this trend and get people saving. Automatic enrolment, beginning for the largest employers later this year, will get millions of people saving, many for the first time.
The analysis also reveals a map of pension provision across the UK in 2009/10, with higher pension provision in the South East (43%), Scotland (42%), the South West (41%) and the East (41%), and lowest pension participation in Northern Ireland (33%), London (34%) and West Midlands (34%).
The Family Resources Survey (FRS) is a key source for pension information and between April 2009 and March 2010, interviewed around 25,000 private households across the UK.
Notes to Editors:
This analysis is available on the DWP website: http://research.dwp.gov.uk/asd/index.php?page=adhoc_analysis
Figures based on a working age population of 30.4 million people
The Government is introducing automatic enrolment to help people save for retirement. That means that beginning in October 2012 for the largest firms, employers will have to automatically enrol their eligible workers into a workplace pension scheme.
Everyone aged at least 22 and under pensionable age earning more than £7,475 (2011/12) will be eligible for automatic enrolment, and people who want to will be able to opt-out.
Automatic enrolment is widely recognised as the best way to overcome people's decision making inertia - rather having to make an active decision to save in a workplace pension, an employee has to make an active decision not to save.
Automatic enrolment in a nutshell
Beginning in autumn 2012, many more people will have access to a pension at work, to help them save for their later years.
Employers will have to enrol all eligible employees into a pension and make minimum contributions into the scheme.
If you are eligible, your employer will enrol you automatically into a pension.
You will be able to opt out if you want but you will miss out on an employer contribution of around £600 a year once minimum contributions are established - 3% of an average earnings of £26,200 for full-time workers (ONS 2011 Annual Survey of Hours and Earnings)
More information is available at: http://www.direct.gov.uk/en/Pensionsandretirementplanning/Companyandpersonalpensions/DG_183783
Published 1 December 2011