News story
Penny Mordaunt is first minister to use sign language in Parliament
Penny Mordaunt used sign language at the despatch box in Parliament to highlight the upcoming Global Disability Summit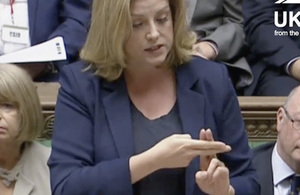 The International Development Secretary Penny Mordaunt has become the first minister in British history to use sign language from the despatch box in Parliament.
Penny Mordaunt using sign language in Parliament
She was highlighting the fact that the UK will Global Disability Summit will co-host its first ever Global Disability Summit with the International Disability Alliance and the Government of Kenya on 24 July 2018.
The summit will take place at the Queen Elizabeth Olympic Park in London and will bring together more than 700 delegates from governments, donors, private sector organisations, charities and organisations of persons with disabilities.
Published 4 July 2018