World news story
Pearson Test English Launched in Sri Lanka
The Pearson Test of English qualification was officially launched in Sri Lanka by the British High Commissioner on 26 August 2015.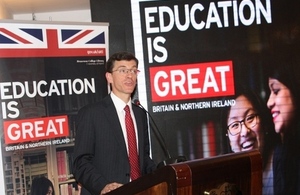 The event held at Westminster House was attended by over 100 business professionals, heads of organizations, heads of education institutes, principals and education agents.
The PTE Academic qualification assesses real-life English skills needed at university and for living abroad, and is accepted for university applications by prestigious institutions for thousands of academic programmes in over 60 countries including the UK, USA and Canada.
HE James Dauris, the British High Commissioner to Sri Lanka said: "Education links between the UK and Sri Lanka continue to go from strength to strength. British education standards are highly valued and respected in Sri Lanka and around the world. "The addition to the market of the Pearson Test of English will, I am sure, be warmly welcomed by both companies and individuals alike who will be able to take advantage of this internationally acclaimed product".
Steven McGill, Pearson's Head of Partner Markets (Asia) said: "It is really good news for all students who are aiming to study abroad that PTE Academic is now available here. We believe that the ability to communicate effectively in English is crucial to international success in education and in the workplace. Our products are designed to provide fast and reliable results that our students, partners and institutions can rely on. PTE Academic was created in response to demand for a more accurate, objective, secure and relevant test of English."
Mrs. Premila Paulraj, Pearson's Regional Director – Asia said: "Pearson's launch of its Pearson Test of English – Academic and the Pearson Test of English for Young Learners in Sri Lanka is very timely. PTE – A scores are widely accepted internationally for immigration and to study abroad. Desirable features of these tests include their flexibility in scheduling exam times at the convenience of the candidate, and the almost immediate test results. We are confident that this suit of English Language Teaching (ELT) tests and qualifications will give the opportunity for students to be tested by the most sought after Pearson English Language tests."
See photos of the event in our Flickr gallery
Published 27 August 2015