Payment by results in the justice system
Today the Ministry of Justice hosted a conference on using payment by results models in the justice system – bringing together for the first time ministers, voluntary organisations, social enterprises and industry.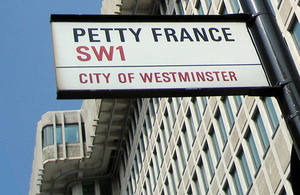 The Ministry's 'Breaking the Cycle' Green Paper outlines its commitment to commission at least six new Payment by results pilots covering a significant proportion of the offender population. 
The 'Payment by results symposium' gave ministers the chance to speak to and encourage those who will be involved in delivering payment by results projects.
Speaking at the symposium, the Lord Chancellor and Secretary of State for Justice Kenneth Clarke said:
'Payment by results is a vital means by which my department proposes to improve the effectiveness of the criminal justice system on the one hand at the same time as delivering improved value for the taxpayer on the other.
'We are committed to involving a diverse range of providers in our payment by results projects and the symposium will explore how best they can contribute their expertise in the running of these schemes.'
Mr Clarke said the ministry would focus its resources where they're of greatest value. 
'We cannot afford - and will not pay for - good intentions or box-ticking exercises that do not produce the results we need,' he said.  'Payment by results will mean we will only pay providers if they reduce reoffending.'
He added: 'Payment by results is central to our reform plans because it means that we can concentrate resources on paying for what works.
'Providers have discretion in how they manage individual offenders and are free to try new and different approaches.  But they know they will be rewarded for performance against the outcomes specified in the contract. So they have strong reasons to do what works.'
Published 3 March 2011