News story
Paterson welcomes the 'Budget for Growth'
Details of Secretary of State Owen Paterson MP's response to the Budget measures contained in the Chancellor's speech.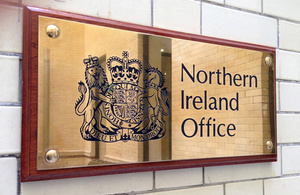 The Secretary of State Owen Paterson MP today welcomed the Budget measures contained in the Chancellor's speech.
Owen Paterson said:
This Budget will help us deliver a strong and stable economy, promoting growth and supporting enterprise.
The Exchequer Secretary, David Gauke, will be in Northern Ireland tomorrow and together with Northern Ireland party leaders we will be publishing measures to help rebalance the economy. This is the start of a process which could lead to increased investment and make Northern Ireland one of the best places in Europe to do business.
The Secretary of State went on to say:
This Budget and the Plan for Growth will help business and individuals alike, it will take 9,000 in Northern Ireland out of tax altogether and reduces tax for 640,000 others.
The Plan for Growth is particularly exciting. It contains a wide range of measures that will last for the remainder of the Parliament. We are going to:
reduce the rate for Corporation Tax from 28% to 23% across the UK
simplify the tax system
introduce a substantial package of deregulation that currently cost business over £350m a year
create a powerful new presumption in favour of sustainable development
I also welcome the reduction in fuel duty and the introduction of the fair fuel stabiliser which I know will be welcomed by drivers across the province. The freeze in Air Passenger Duty and the consultation on its replacement will be welcomed by those of us who rely on air travel which is essential for developing our business and tourist industry.
Where these matters are devolved in Northern Ireland we shall work in partnership with Northern Ireland ministerial colleagues to take forward implementation of the Plan for Growth.
This is a Budget for growth across the whole United Kingdom in which Northern Ireland will share. Working together with the Executive we are committed to rebalancing the economy away from unsustainable public sector spending based on debt towards sustainable, private sector led growth to the benefit of all the people of Northern Ireland.
Published 23 March 2011