News story
Paterson welcomes social justice report
Secretary of State Owen Paterson MP joined Department of Work and Pensions Secretary, Iain Duncan Smith MP at the launch of the Breakthrough Northern Ireland event organised by the Centre for Social Justice.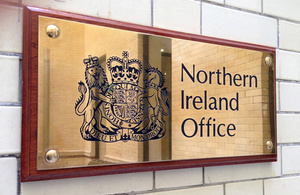 Mr Paterson said:
This is a very timely and significant report by the Centre for Social Justice. It highlights that in tackling poverty Northern Ireland has much to learn from Great Britain, but Great Britain can also learn much from the excellent work being done in Northern Ireland. I have seen a great deal of this at first hand in opposition and now in government.
The report also reinforces the need to move politics forward in Northern Ireland to focus on the mainstream issues that affect people in their daily lives. Many of the areas covered by the report are rightly devolved to the Northern Ireland Assembly. I trust that local politicians will find the report's conclusions a positive contribution to promoting social justice and a shared future for all the people of Northern Ireland. As I have said many times, this is a team effort between the UK government, the devolved administration and those organisations that are key to delivering these objectives on the ground.
Published 2 September 2010