News story
Paterson welcomes new Executive
New Northern Ireland Executive welcomed by Secretary of State Owen Paterson.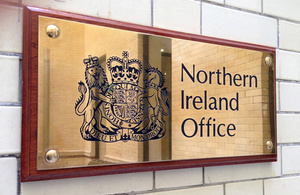 Secretary of State Owen Paterson has welcomed the formation of the new Executive and has said that he looks forward to working closely with Ministers on a range of issues.
Mr Paterson said:
Now that the electorate has spoken and the Assembly proceedings and the appointment of Ministers is complete, I would like to congratulate the First Minister, the deputy First Minister and all those who have taken up their Ministerial offices today.
The election result means that we can now look forward to a period of stability. There are pressing issues facing the Executive, if we are to bring about the prosperity and wellbeing necessary to underpin the political settlement.
It is for the Executive to decide how it wants to proceed, but in a number of areas, I believe, there is scope for the UK Government to work in close cooperation with them. We all agree that rebalancing the economy is fundamental to Northern Ireland's future, and it is important that we tackle this with real determination. The corporation tax consultation is under way at present. We will want to listen carefully: I hope then that, with the cooperation of all the parties in the Executive, we can proceed vigorously.
We will also need to work closely with the Executive over the threat posed by terrorism in Northern Ireland.In some of the areas crucial to countering the threat, responsibility lies with the Executive. We will support them in every way we can - as evidenced by the exceptional provision of £200m over the next four years for the PSNI.
I hope to meet the First Minister and deputy First Minister soon, so that we can decide how we can best work together.
Published 16 May 2011