News story
Paterson welcomes Chancellor's decision to reduce Airline Passenger Duty for long haul flights
Secretary of State Owen Paterson today welcomed reduced Airline Passenger Duty (APD) on all direct long haul flights from Northern Ireland.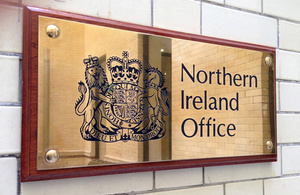 Owen Paterson, Secretary of State for Northern Ireland today, welcomed the announcement by the Chancellor of the Exchequer, George Osborne, of reduced Airline Passenger Duty on all direct long haul flights from Northern Ireland from 1 November.
Mr Paterson said:
This is really good news for Northern Ireland. Our priority is to protect jobs and help create more jobs. First-rate transport links are essential to Northern Ireland's future prosperity and that is why we have worked so hard with the Chancellor on this issue.

Today's announcement will help safeguard the vital direct link from Belfast to the United States and make it easier for the Executive to develop other long haul routes to attract foreign direct investment and increase tourism.
Mr Paterson paid tribute to the crucial intervention of the Chancellor of the Exchequer:
We invited George Osborne to visit Northern Ireland in June and he was very impressed by the arguments of the business community and of the Executive about the critical importance of the direct air link to the United States to the Northern Ireland economy.

He has taken a personal and sustained interest in this issue and acted with enormous energy and determination.
Mr Paterson also praised Northern Ireland Ministers:
Peter Robinson, Martin McGuinness and their colleagues worked very closely with us.

This has been a great example of how good teamwork between Whitehall and Stormont can deliver real benefits to Northern Ireland.
The reduction in APD will come into effect on 1 November and the legislation to devolve responsibility in this field to the Northern Ireland Assembly will come forward in Parliament in due course.
Published 27 September 2011