News story
Paterson meets Ballymurphy families
The Secretary of State encouraged Ballymurphy families to work with the Historical Enquiries Team in its investigation.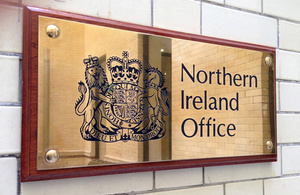 Secretary of State, Owen Paterson MP has encouraged the families of those killed in Ballymurphy in August 1971 to work with the Historical Enquiries Team (HET) as its investigation continues.
Speaking after meeting the Ballymurphy families at Stormont House today (Thursday 7 October), Mr Paterson said:
The stories the families told were powerful and moving. I listened to them with Minister of State, Hugo Swire and we both have the most profound sympathy for their loss and grief. The HET is completely independent of central government and reports to the Chief Constable. I urged the families to co-operate with the investigation into these tragic deaths.
The Secretary of State said that finding a way to deal with the past that will provide a form of closure and healing is hugely important but is a sensitive, contentious and difficult task.
Mr Paterson continued:
As was clear when we published the responses to the consultation on the Eames/Bradley Report, there is currently no consensus on how to deal with the past. That does not mean that we will stop looking for a way to build one.
Over the coming months, along with Hugo Swire, I will be meeting with a range of individuals, groups and political parties to see if we can find a way forward that is broadly acceptable across Northern Ireland. If we can do that it will be a significant step towards building the kind of shared future that all of us with the interests of Northern Ireland at heart want to see.
Published 7 October 2010