Paterson confident of continued US support
Secretary of State Owen Paterson MP encouraged by expressions of support for Northern Ireland from leading American political and business figures.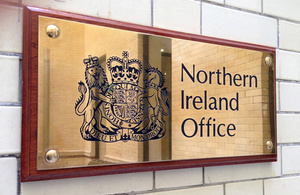 Mr Paterson was speaking following his first visit to the US as Secretary of State.
During the trip Mr Paterson visited Washington, New York and Boston.
Mr Paterson said:
Wherever I went the same message was coming through loud and clear. The US is fully behind our efforts to work with the devolved administration to help Northern Ireland continue to progress towards long term political stability and economic growth.
It was particularly encouraging to hear that those who try to thwart that progress will gain absolutely no traction in the United States.
And support for Northern Ireland is not only in the form of warm words.
Congressman Richie Neal assured me that he is confident that the US Congress will shortly vote through a further $15m a year for the next three years for the International Fund for Ireland which enables bodies like Co-Operation Ireland to do immensely valuable work in Northern Ireland.
During his visit Mr Paterson also saw Tourism Ireland's "Experience Northern Ireland: Titanic and More" exhibition in Grand Central Station in New York and had discussions with a leading Massachusetts-based company seeking a European sales and support centre.  
He also met Professor Thomas Hachey of Boston College on dealing with the past. The College has done ground breaking work on building an oral history archive.
Mr Paterson concluded:
Together with the devolved administration, we have a great story to tell about Northern Ireland and the opportunities for business that it represents.
Crucially, the people that matter in the US are listening.
We will build on that when I return for the Economic Conference later this month in Washington.
Published 1 October 2010