News story
Patent Prosecution Highway with Germany opens today
The Patent Prosecution Highway (PPH) allows applicants who have been successful in obtaining a patent from either the UK Intellectual Property…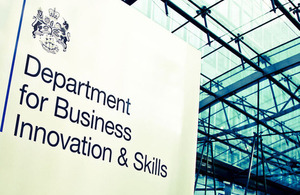 The Patent Prosecution Highway (PPH) allows applicants who have been successful in obtaining a patent from either the UK Intellectual Property Office (UK IPO) or the German Patent and Trademark Office to request accelerated examination of a corresponding patent application filed in the other country.
Minister for Intellectual Property Baroness Wilcox said:
"Speeding up the international patent process means British businesses wishing to expand abroad can do so more quickly and cheaply. The Patent Prosecution Highway with Germany's Patent and Trademark Office adds an important partner to the existing schemes the UK IPO already has with a number of other countries. The agreement will provide a more efficient and affordable system for British and German businesses."
The UK-Germany PPH pilot will start on 1 March 2012 and will run for an initial period of one year, ending on 1 March 2013.
Notes to editors
The Intellectual Property Office (IPO) is within the Department for Business, Innovation, and Skills (BIS) and is responsible for the national framework of Intellectual Property rights, comprising patents, designs, trade marks and copyright.

Its role is to help manage an IP system that encourages innovation and creativity, balances the needs of consumers and users, promotes strong and competitive markets and is the foundation of the knowledge-based economy.

It operates in a national and an international environment and its work is governed by national and international law, including various international treaties relating to Intellectual Property (IP) to which the United Kingdom is a party.
Notes to Editors
Contact Information
Name BIS Press Office Job Title
Division COI Phone
Fax
Mobile
Email NDS.BIS@coi.gsi.gov.uk
Name Veena Mapara Job Title
Division Department for Business, Innovation & Skills Phone 020 7215 5614 Fax
Mobile
Published 1 March 2012