World news story
'Passport Passback' service in India
Effective 31 March 2014, the UK will be extending its "Passport Passback" service to all 12 Visa Application Centres in India.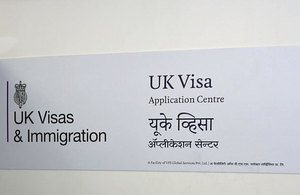 This service allows applicants to retain their passports while visa decisions are being made. This will be of particular interest to those people who need to travel or apply for other visas in the interim period. The service will be capped to 75 slots per day across each Visas Application Centre (VAC) in India.
The UK has also announced a number of changes to the fees charged for visas, immigration and nationality applications and wider premium services. We are introducing these fee changes in order to bring a consistency to the pricing of our premium services across the world.
The main changes to the fees for premium services that will come into effect from 31 March 2014 in India are:
The passport pass-back service will cost INR 4200 per applicant
Priority Visas (earlier known as "Fast Track") which are processed within 2-3 days will cost INR 10500
Prime time Appointment at the VAC will cost INR 5250
The User Pay Service for the VAC in Goa will cost INR 6195
The Super Priority Visa Service fee remains INR 63000
Follow UK in India on Twitter, Facebook, Flickr, YouTube, LinkedIn, Storify, Eventbrite, Blogs, Foursqare
Published 26 March 2014