News story
Partnership working on new rules for selling video games
The Government has recognised the need to protect children from inappropriate content and has been working with industry representatives ahead…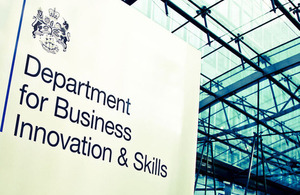 The Government has recognised the need to protect children from inappropriate content and has been working with industry representatives ahead of new requirements from 30 July when the age rating of games aimed at those aged 12 or over will become mandatory.
In future producers will submit all of their video games for Pan European Game Information (PEGI) age classifications from the Video Standards Council which is designated as the new games rating authority.
Retailers are working with local and national regulators to ensure everyone understands the new requirements for video games and that staff are fully trained.
Business Minister Mark Prisk said:
"It's good to see that regulators are committed to working with retailers to ensure that this new requirement is introduced in ways that work for everyone. The Primary Authority scheme, with its single point of contact for assured advice on regulation, will help to deliver this change in a way that minimises the burden to business."
British Retail Consortium's Director of Business and Regulation,Tom Ironside, said:
"As sellers of video games our members recognise their responsibility. Many of our members have Primary Authority partnerships with local authorities and will be looking to them for immediate guidance on how to introduce new procedures and training effectively across their stores in the months ahead.
"We welcome the commitment of the Better Regulation Delivery Office to work urgently with Primary Authorities to provide suitable guidance to businesses to cover the initial period of implementation."
Trading Standards Institute Chief executive Ron Gainsford added:
"Trading Standards Officers across the country will want to work with responsible retailers to provide assistance and support to ensure that inappropriate games are not sold to under 12s."
Director General of the Entertainment Retailers Association, Kim Bayley, said:
"Entertainment retailers are well used to administering ratings schemes, having worked for many years with the Video Standards Council on age rated video and games products. We are delighted that the new PEGI games ratings regime will come into effect on July 30.
"Retailers have worked hard with their suppliers to ensure a successful introduction of the new system, which we believe will provide greater clarity for consumers and in particular reassurance to parents that the
games their children play are appropriate to their age."
PEGI classifications and labels will be mandatory for products unsuitable for children under 12 and it will be a requirement to ensure PEGI 12, 16 and 18-rated products are only sold to those of the appropriate age.
The video games industry is launching a campaign aimed at parents highlighting the importance of the PEGI age ratings.
**Notes to editors:
**1. The Primary Authority scheme means businesses have a single point of contact for assured advice on regulation wherever they trade in England and Wales and is one of the many ways the Government is cutting red tape for firms. Primary Authority supports targeted, risk-based inspections by delivering earned recognition for compliance, and the evidence shows that the scheme reduces burdens for both businesses and regulators.
BIS has published a consultation paper Age Restricted Products and Services: a Code of Practice for Regulatory Delivery, this month. The draft code is based on a principles framework published in November 2011 which set out an agreed set of shared responsibilities and reasonable expectations for young people, parents, businesses, employees and regulators. The code sets out ways regulators can reduce harm to young people by tackling rogue traders and working with responsible businesses through new approaches to targeting and follow-up for enforcers.

Currently in the UK some video games carry mandatory BBFC (British Board of Film Classification) 15 or 18 age classifications whilst all games are also voluntarily classified 3,7,12, 16 or 18 by the industry under the Europe-wide PEGI (Pan European Game Information) system.

A new single and extended statutory classification system for video games is being introduced following the Byron Review and subsequent public consultation. From 30th July 2012, under the Video Recordings Act, video games featuring content unsuitable for the under-12s will be required to be submitted for age classification under the PEGI system which will be administered by the Video Standards Council operating as the Games Rating Authority. It will be an offence to sell products classified and labelled PEGI 12, 16 and 18 to anyone not meeting the age requirements. PEGI 3 and 7 classifications will be for guidance only.

Classifications awarded to video games before the 30 July will retain their status thus there should be no need, for example, to remove BBFC rated video games from the shelves. Products carrying primarily video (film) or R18 content will continue to be classified by the BBFC.

The Government's economic policy objective is to achieve 'strong, sustainable and balanced growth that is more evenly shared across the country and between industries.' It set four ambitions in the 'Plan for Growth' (PDF 1.7MB), published at Budget 2011:
To create the most competitive tax system in the G20

To make the UK the best place in Europe to start, finance and grow a business

To encourage investment and exports as a route to a more balanced economy

To create a more educated workforce that is the most flexible in Europe.
Work is underway across Government to achieve these ambitions, including progress on more than 250 measures as part of the Growth Review. Developing an Industrial Strategy gives new impetus to this work by providing businesses, investors and the public with more clarity about the long-term direction in which the Government wants the economy to travel
BIS's online newsroom contains the latest press notices and speeches, as well as video and images for download. It also features an up to date list of BIS press office contacts. See [http://www.bis.gov.uk/newsroom](http://www.bis.gov.uk/newsroom) for more information.
Notes to Editors
Contact Information
Name BIS Press Office Job Title
Division Department for Business, Innovation & Skills Phone
Fax
Mobile
Email bispress.releases@bis.gsi.gov.uk
Name Aidan Steer Job Title
Division Department for Business, Innovation and Skills Phone 020 7215 5245 Fax
Mobile
Published 26 July 2012