Partnership pays off for submarine upgrades
Two of the Royal Navy's Trafalgar Class submarines are reaping the benefits of major upgrades to their combat systems following their latest maintenance periods.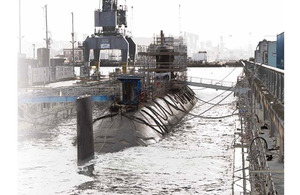 The Defence Equipment and Support (DE&S) Submarine Combat Systems Group have joined contractors Babcock in successfully delivering major packages of work during the Revalidation and Assisted Maintenance Periods (RAMPs) for HMS Trenchant and HMS Talent, the last of which completed last month. The result is a significant uplift in the operational capabilities of both submarines.
The size of the combat system work packages for each RAMP was a step up from those undertaken previously which meant that the Combat Systems Group, Babcock and the Project Contract Manager Team at Devonport needed to work even more closely together and carefully review all processes to get the job done in time.
The nature and complexity of the system upgrades meant that some new equipment was immature when accepted into the package, while still having to achieve the qualifications required to be fitted on a submarine. Guidance information needed to be fully developed, and contractual and financial elements finalised.
Interdependencies between each of the individual upgrades meant all the individual parts of the work had to be delivered for the whole to be achieved.
Failure by an individual project to deliver was not an option. To delay the upgrades until the next appropriate fit opportunity would deny the Royal Navy's fleet a capability advantage.
This approach was met with scepticism by some who did not fully understand how quickly combat system equipment has to evolve to stay current in the face of new technology and obsolescence. The front line demands the very latest capability it can get.
Along with the normal maintenance and defect rectification that takes place during a RAMP, 14 interdependent combat system alterations and additions were completed on Trenchant, and 14 on Talent, together with a sizeable package of work on legacy combat system equipment.
The volume of work required a large number of independent project teams at Abbey Wood to deliver their element of the project on time.
Sound co-ordination and proficient programme management by the Submarine Combat Systems Group was vital in ensuring they delivered on their promises and therefore built on the confidence and rapport that developed as the projects evolved.
Project staff admitted that things did not always run smoothly. But thanks to the pragmatic and flexible approach of Babcock and the project managers, and with a high level of trust being built between them, problems were overcome.
The expertise and unique capability of Babcock in delivering submarine support and offering solutions to emergent problems without doubt ensured that success was achieved in partnership with the DE&S Submarine Combat Systems Group.
Submarine Combat Systems Group team leader, Captain Pat O'Neill, said:
While I was always confident in the delivery of these extensive work packages, others were less certain of the outcome. I am therefore very pleased that through excellent teamworking and professionalism the MOD and industry team has succeeded.
It is vitally important that with fewer submarines than we once had, but with many operational commitments still to be met, we are able to deliver combat system updates at any scale within the normal maintenance cycles, and we have demonstrated this on these platforms.
They now sail with systems that deliver the latest capability requirements and at the same time embody new technology which will dramatically decrease future support costs and enhance system reliability.
Published 26 January 2012