Press release
Partners make clean sweep of North East beach
Litter pick benefits wildlife and visitors at Druridge Bay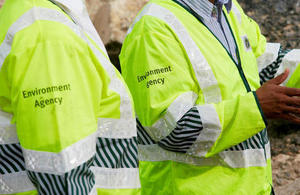 Environment Agency staff joined forces with partners to carry out a clean sweep of a Northumberland beach.
They joined Northumberland Wildlife Trust to carry out a litter pick at Druridge Bay – one of the county's most popular beaches – on Friday.
Northumberland County Council also joined in, with staff removing the rubbish collected at the end of the day.
Environmental Monitoring Officer Laura Corrigan organised the event. She said:
Marine litter is a real problem for our local marine wildlife on the Northumberland Coast, with hundreds of species accidently eating or becoming entangled in litter.
Druridge Bay is a beautiful area of Northumberland and extremely popular with families and walkers.
We work closely with our partners in each of our different roles to ensure it stays that way.
By putting aside a few hours to carry out a sweep of the beach together, it ensures it's clean and tidy and minimises the impact on the environment and wildlife.
Hopefully it will encourage beach users to take note and make sure they dispose of their litter responsibly, or better still, reduce, reuse or recycle where possible.
Much of the litter collected was plastic bottles, carrier bags and cigarette butts, which can have detrimental effects on marine wildlife and impact on water quality.
Published 14 September 2015