World news story
"Partners in defence and security" is the UK theme at upcoming exhibition
UK Defence Minister leads a strong delegation to the Defence and Security International Exhibition 2013.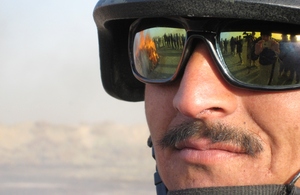 UK companies promoting innovative equipments and capabilities in defence and security are hoping to use LAAD as an opportunity to explore industrial partnerships with Brazilian companies. The UK is also keen to respond to opportunities in the maritime sector as Brazil looks to invest in infrastructure in the next few years.
Dr Andrew Murrison, Minister for International Security Strategy, leads the UK team accompanied by Richard Paniguian Head of UKTI's Defence and Security Organisation.
The visit is an opportunity to highlight the important strategic, defence and trade relationship between the UK and Brazil and explore future defence engagement and closer acquisition links.
The UK's particular capability themes include: land and maritime border security, large event security and identity management.
Dr Murrison said:
Our strategic relationship with Brazil is very important and one we value greatly. The theme for my visit is the breadth and depth of the defence relationship between the UK and Brazil. It is built upon three valuable partnerships between our forward thinking countries, our modern and professional Armed Forces and our technology-rich defence industries. As outlined by the Prime Minister and Business Secretary during their visit last year the British government will continue to engage with and enhance the defence and security sectors in both countries and build on the strong relationship between our two countries.
Mr Paniguian said:
Brazil has a growing presence in the security sector and is an important partner for the UK. A key aim for this visit is for the UK to share its experience in hosting the recent Olympic Games and offer Brazil support for the forthcoming World Cup and Olympic Games. LAAD 2013 represents an excellent opportunity for us to show the best that Britain has to offer and find common ground on which partnerships can be built.
Note to Editors:
Defence exports in 2011 were worth £5.4 bn making the UK the second highest defence exporter.
UK security exports in 2011 were worth £2.6 bn, making the UK the 6th most successful security exporter.
UK Trade & Investment (UKTI) is the government department that helps UK-based companies succeed in international markets and targets high quality inward investment for the UK.
For more information, please contact Adam Thomas, Senior Press Officer UKTI DSO on the UK stand Tel Mobile +44 7775 817 835.
Published 8 April 2013