World news story
Part-time Pro-Consul needed at the British Embassy in Santiago
The British Embassy is recruiting a Part-time Pro-Consul; the starting date of the position is on 17 June, 2013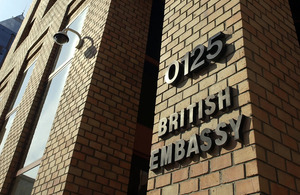 Role
Providing the full range of consular services as described below and assisting the head of the section to implement the "New Consular Strategy" and promotion and expansion of the British Embassy's website.
Main duties
Providing assistance to customers contacting the consulate counter by email, phone or in person
Assisting welfare and whereabouts cases
Managing appointment/callers at the consular counter
Providing documentary and passport services
Filing, weeding passports, arranging travel and hotel reservations for visitors and consular staff among others
Operating the on-line appointment system for Consular Services
Providing legalisation and notarial services of UK and Chilean documents required for British nationals in Chile
Timely replying to emails and other written requests
Supporting the Head of the Consular Section to execute the Outreach Strategy within the Metropolitan area
Assisting the Head of the Consular Section with crisis management planning
Participating in crisis management exercises
Managing the Consular Section´s stationary and office-supply requests
Attending training courses and regional conferences
Participating in post "Away Day" and will have the opportunity to volunteer for Regional Resilience network (RRN)
Part-time Pro Consul will be asked to assist on other areas with short notice communication.
Essential requirements
An excellent command of spoken and written English and Spanish
Customer focused, good problem solver, good at managing both external and internal customer expectations
Strong IT skills
Highly organised, ability to work under tight-deadlines and prioritise accordingly
Self initiative to leading projects under the supervision of the Head of the Consular Section
Adaptability, flexibility and patience with customer and families under stressful circumstances.
Available to travel and deploy with short notice to other Consular sections in the Region.
Being able to work under pressure: medical and death assistance services, victims of crime, arrest cases, mental health cases, destitution, missing British Nationals, hospitalisations.
Have a good understanding of the Ministries and Public Offices in Chile.
The candidate should be able to deal with local authorities and Consular Contacts in a professional and courteous manner
During a major crisis or natural disaster the successful candidate should be able to work after hours and during weekends
During the probationary year the candidate should develop a good understanding of the Crisis Management system in Chile and the UK
Full validity passport
Core hours
20 hrs per week. Monday to Friday 9am – 1pm. Full training will be provided.
Holiday entitlement
18 days.
Salary
$ 675.960 Chilean pesos (gross salary.)
Employment is subject to a 12 month fixed contract with the possibility of renewing for a permanent contract. Access to a medical scheme and other benefits are available after signing this second contract. If interested, please send a CV and a brief letter explaining eligibility to the position (in English) to: Head of Consular Section, Embajada Británica, Avenida el Bosque Norte 0125, Las Condes, Santiago.
Envelopes should be marked "Application for Part-time Pro-Consul."
Closing date: Wednesday 15 May 2013 (before 5pm.)
Job starting date: 17 June 2013.
If you are selected for interview we will call you by 17 May 2013.
Only shortlisted candidates will be notified.
Published 2 May 2013