Parliamentary Assembly of the Council of Europe reconvenes in Strasbourg
The Parliamentary Assembly of the Council of Europe will hold its second part-session the third week of April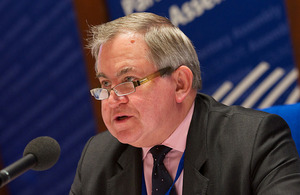 The second part-session of the Parliamentary Assembly of the Council of Europe (PACE) will take place on 22 to 26 April 2013.
The Parliamentary Assembly will hold a number of debates throughout the week, including three reports with United Kingdom rapporteurs. Michael Connarty MP will present on the debate "Young people's access to fundamental rights"; James Clappison MP on "Frontex: the need to improve its human rights role and capabilities"; and Christopher Chope MP will speak on "Draft Protocol No. 15 to the European Convention on Human Rights".
A number of personalities are due to address PACE during the week, including:
Joachim Gauck, President of Germany
Gilbert Saboya Sunye, Minister for Foreign Affairs of Andorra
Bidzina Ivanishvili, Prime Minister of Georgia
Didier Burkhalter, Head of the Federal Department of Foreign Affairs of Switzerland
Moncef Marzouki, President of Tunisia
Victor Ponta, Prime Minister of Romania
Antoni Marti, Head of Government of Andorra
Thorbjørn Jagland, Secretary General of the Council of Europe, and
Nils Muiznieks, Council of Europe Commissioner for Human Rights
For a closer look at the second part-session consult the PACE agenda.
Published 22 March 2013