Paratroopers undertake public order training
Troops from 3rd Battalion The Parachute Regiment (3 PARA) have been bombarded with petrol bombs and missiles during public order training in a mock village at Lydd Ranges in Kent.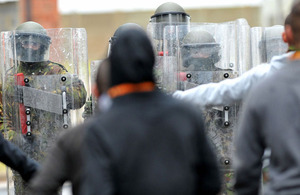 The paratroopers' training has been helping them learn how to deal with hostile crowds that they may face in their role as the British Army's Rapid Reaction Force.
The Colchester-based troops started off by learning how to work together to both defend each other and drive back hostile crowds, with training culminating in a large disturbance with fellow soldiers as rioters.
Major Richard Todd, Officer Commanding A Company, said:
As the Airborne Task Force, we are on standby to go on operations anywhere in the world at short notice. As well as conventional war-fighting we could be involved in disaster relief or civil disturbances, and that might require dealing with hostile crowds.
Learning how to deal with public order situations is a new skill for many of our soldiers, but they have really enjoyed and performed well on a challenging and extremely realistic course.
Major Todd said that the techniques used in public order could be traced back more than 2,000 years:
Many of the drills are no different to what the Roman Army used to do, with highly disciplined soldiers advancing forward under the protection of shields. The key to dealing with large, hostile crowds is control and knowing when and how to react to what is happening in front of you.
This training is about getting soldiers used to facing a high pressure situation so they don't overreact if they have to face it for real.
Private Peter Harrington, aged 19, said:
It is scary to have petrol bombs thrown at you and really gets the adrenaline going. I've had the experience of it now and learnt that dealing with public order incidents is all about looking out for each other and keeping a cool head.
Private Dan Nicklin, 25, said:
This is a new skill for me and the training has been an eye-opener. The best bit is being a rioter against my colleagues. Facing a hostile crowd is the best way to learn what to do in a real situation and we've all given each other a good aggressive experience!
Published 23 January 2012