Paratrooper runs Helmand marathon in body armour
A paratrooper has raised more than £1,200 for charity after running a marathon around his base in Helmand province in his body armour while carrying a general purpose machine gun (GPMG)!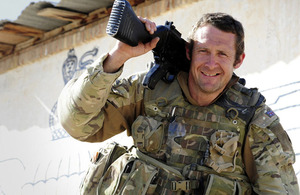 Lance Corporal Robert Fisher, aged 39, from Chorley, who is serving with 3rd Battalion The Parachute Regiment in Shahzad, ran around the base twenty-six times. He said:
I've always wanted to run a marathon carrying a GPMG while wearing body armour. I thought it would be something different.
It took Lance Corporal Fisher just over seven hours to complete the gruelling run:
It was one of the hardest things I've done," he admitted. "The marathons I've done in the past carrying weight have been tough, but this was a lot harder. I was hoping to do it in under six hours, but I started cramping up around the nineteen-mile [31km] point.
For the last six miles [10km], it was mind over matter. For me, it's worth the pain, it's worth the fatigue. I've raised over £1,200 for two charities.
The money will be split between the Afghanistan Trust and the NSPCC (National Society for the Prevention of Cruelty to Children):
I try to do a marathon every year for charity," he said. "I try to put my fitness to good use.
When he's not running marathons, Lance Corporal Fisher serves as a Physical Training Instructor (PTI), making sure his fellow soldiers stay fit.
He's been out in Afghanistan since last September:
I've had a number of duties out here. I'm the PTI, but I've also been working on the security of the base, doing guard duties, and also liaising with the locals.
Published 25 March 2011