ParalympicsGB athletics team named for London
Announcement marks 50 days until the London 2012 Paralympic Games begin.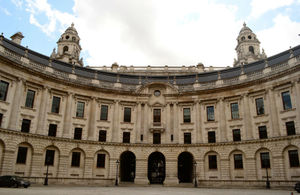 The British Paralympic Association (BPA) today named the 49 ParalympicsGB team track and field athletes who will compete in London.
The list includes double gold medallist David Weir and 28 athletes who'll be making their Paralympic Games debut.
"Today marks 50 days until the start of the Paralympic Games and for many athletes the dream of competing in London 2012 has been made a reality," said Olympics Minister Hugh Robertson, who joined members of the squad this morning to mark the date at the official countdown clock in Trafalgar Square.
"I wish the very best of luck to all those who have worked extremely hard to be selected and to build on the great success achieved in Beijing."
The athletics team line-up completes the list of British athletes who will compete for Great Britain and Northern Ireland at London 2012.
Images from Trafalgar Square on the DCMS Flickr photostream
To mark the 50 days to go milestone, the Paralympic symbol, the Agitos, was dug into the sand in Wales' Rhossili Bay by a group of volunteers and schoolchildren in association with the National Trust.
Watch a time-lapse video of the Agitos being created
Paralympic torch relay
Today's BPA announcement comes after details of the Paralympic Torch Relay route were published yesterday. The Paralympic Flame will be carried 87 miles by 580 inspirational Torchbearers, working in teams of five, from Stoke Mandeville in Buckinghamshire to London.
Further info
Published 12 July 2012