Paralympic sculpture presented to competition winner
Culture Secretary presents bronze of Paralympic sprinter Libby Clegg in Trafalgar Square.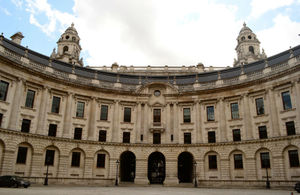 Ticky Tuppen, from Devon, won the statue in a lottery held by Art at the Edge, raising funds to support disadvantaged and disabled young people through the work of ParalympicsGB and the Youth Sport Trust.
Jeremy Hunt presented the statue, by Charlotte Barker, which shows the blue tether that visually impaired Libby uses to connect to her running guide. The words 'empowered' and 'sensational' are written on the sculpture in Braille reflecting their personal experience of running.
Art at the Edge is based in Bath where ParalympicGB athletes will be training ahead of 2012. They, with Bath Council, have commissioned a collection of 30 bronze sculptures of different Olympic and Paralympic sports to be shown in Bath, Oxford and London. Don Foster, MP for Bath, was in Trafalgar Square this morning to see Ticky receive her prize.
Photo: L-R Rt Hon Jeremy Hunt MP, Competition winner Ticky Tuppen, Don Foster MP, Sculptor Charlotte Barker
Further information
Published 14 September 2011