World news story
Paralympic legacy visit to Elbląg
Robin Barnett, British Ambassador to Poland, visited Elbląg on 28-29 October.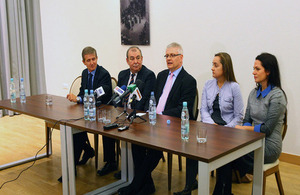 The flagship event of the visit was the premiere of "Natalia" - a film about Natalia Partyka - Polish Olympian and Paralympian, triple gold Paralympic medallist in table-tennis from Athens, Beijing and London. In August 2013, as part of the Embassy's activities within the London 2012 Paralympic Legacy, ambassador Robin Barnett had recorded a message (in Polish) on Natalia Partyka, which was subsequently incorporated into the film.
Elbląg is also the birthplace of Paralympic sports in the region of Warmińsko-Mazurskie. The city hosted the European Championships in Sitting Volleyball in September 2013, and will also host the World Championship in the same discipline in 2014. The ambassador visited the local "Atak" sports club – the organiser of both these high-profile events and an organisation that integrates both disabled and able-bodied sportspeople.
While in Elbląg, the Ambassador met and held a press conference with the recently elected Mayor, Jerzy Wilk. With the city's promising furniture sector and a meeting with the management of the local Science & Technology Park, the visit also provided an opportunity to gain further insight into Elbląg's trade and investment strengths. To that end, Martin Oxley (Director, UKTI Poland), accompanied the ambassador to this trip.
This was ambassador Barnett's third visit to Warmińsko-Mazurskie in the last 11 months, and his second to Elbląg. As is the case with all regional visits by the ambassador, their chief aim is to expand Embassy's political and commercial contacts with Poland's sixteen regions, as well as discuss British trade and investment engagement with local authorities and business circles. In this particular region, however, ambassador Barnett focuses significantly on Paralympic sports.
Published 29 October 2013